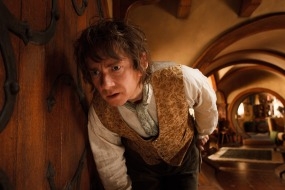 "The Hobbit: An Unexpected Journey," a prequel to "The Lord of the Rings," mostly replicates the experience of watching the previous trilogy—but that endorsement comes with a caveat. Despite their universal acclaim, director Peter Jackson's Oscar-decorated "Rings" films sometimes allowed stunning visuals and large-scale action sequences to overshadow character depth. But if you don't mind that occasional imbalance between spectacle and heart, "Journey" is a hell of ride.
The film is based on J.R.R. Tolkien's novel about an ordinary Hobbit named Bilbo Baggins (Martin Freeman) who joins up with a team of Dwarves and a sage Wizard (the serene Ian McKellen, back for more Gandalf adventure) to defeat a ferocious dragon occupying the Dwarves' homeland. Considering that this is the first chapter in a "Hobbit" trilogy, don't expect a clear-cut ending—if you agree to go on this journey, you have two years and two movies yet to go.
Where the "Rings" films benefited from the camaraderie of Frodo (Elijah Wood) and Sam (Sean Astin), "An Unexpected Journey" has to rely on the likable, comedic charm of Freeman, who doesn't overplay Bilbo's fussiness, instead hinting at the dignity and heroism buried within this mild-mannered character. Where Frodo and Sam were earnest, Bilbo is funny—but not jokey. It's a crucial distinction since "An Unexpected Journey" is often a despairing, frightening film littered with ghastly Orcs and other wretched creatures out to destroy Bilbo and his companions. But the veteran Freeman knows how to strike just the right note between irreverence and seriousness, ensuring that "An Unexpected Journey" has a soulful, engaging center amidst the danger and epic scope.
No discussion of "An Unexpected Journey" can leave out the film's expert effects, although none of them are as remarkable as the return of Andy Serkis, who again gives an exquisite motion capture performance as Gollum. An inspired amalgam of technology and talent, Gollum remains the most absorbing element of Jackson's Tolkien films—he's terrifying and yet also darkly funny—and his arrival in the new film is a highlight of this nearly-three-hour excursion.
As for the action set pieces, not one of them tops what Jackson did in the "Rings" trilogy, but taken in total they're consistently gripping. (And if you're wondering if you need to fork over extra money to see the film in 3D or 48fps, this reviewer saw "An Unexpected Journey" in traditional 2D and 24fps and found it wholly immersive.) "Rings" nostalgists will be happy to know that everyone from Hugo Weaving to Cate Blanchett makes an appearance, but they're very brief, giving way to Freeman, McKellen, and this new cast. The message seems obvious: "An Unexpected Journey" is reminiscent of "Rings" but with some fresh faces. That's good enough for me.
Critic's Score: B+
Directed by Peter Jackson
Casting by Amy Hubbard, John Hubbard, Victoria Burrows, Scot Boland, Liz Mullane, Ann Robinson
Starring Ian McKellen, Martin Freeman, Andy Serkis