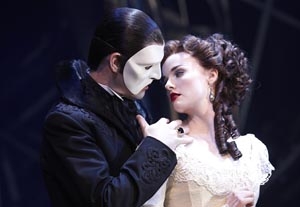 A well-made sequel develops and changes the characters and conflicts of the original work rather than just rehashing them. Unfortunately, "Love Never Dies," the follow-up to the phenomenally successful gothic musical "The Phantom of the Opera," settles for the latter. The journey of this lush spectacle from its inception to its current means of transmission to American and worldwide audiences is as twisted as the voyage of the disfigured genius at the center of the story. A production directed by Jack O'Brien ("Hairspray"), with music by Andrew Lloyd Webber, lyrics by Glenn Slater, and a book by Slater, Lloyd Webber, and Ben Elton, opened in London in 2010. There were plans for it to transfer to Broadway, but reviews were mixed to bad and it closed without making the leap across the pond. A revised version, with additional work from "Phantom" lyricist Charles Hart, book rewrites by Frederick Forsyth, and new staging by Simon Philips ("Priscilla Queen of the Desert"), opened in Melbourne, Australia, in 2011. Lloyd Webber preferred it to the London edition and authorized it to be filmed for broadcast to cinemas worldwide. While it features lovely tunes and impressive performances, "Love" lacks the bite, charm, and heady romanticism of its predecessor.
It's 1907, and the Phantom has miraculously survived the conflagration that concluded the original to set up shop in remarkably similar circumstances. He's still the mysterious unseen controller of an entertainment palace seeking to possess the same attractive songbird. Only this time, instead of the elegant Paris Opera House, he runs a combination freak show and vaudeville house in Coney Island. Christine and Raoul, now married, financially strapped, and with a musically talented 10-year-old son, Gustave, arrive in New York and are lured into the Phantom's lair by a lucrative contract that stipulates Christine's performance of one song written by the masked maestro. The autocratic dance mistress Madame Giry and her bubbly ballerina daughter Meg are now the manager and ingénue of the Phantom's honky-tonk enterprise. The comic diva, tenor, and managers of the Paris Opera House are the only ones who don't make a repeat appearance, and they are sorely missed.
The first "Phantom" worked and become a worldwide sensation not only because of Lloyd Webber's sumptuous score, but because Harold Prince's expert staging combined the classic love story of maid and monster with seriously frightening horror elements. There was real danger in the air as that chandelier crashed and stagehands were strung up. This melodramatic version draws unintended laughter from the movie audience as Ben Lewis' Phantom grimaces exaggeratedly and expresses twisted love for Christine and Gustave, who turns out to be the Phantom's offspring (surprise!). In addition, Maria Björnson's original concept for the Phantom's underground kingdom was a chill-inducing labyrinth, while here Gabriela Tylesova's funhouse sets are no more scary than a visit to Cirque du Soleil.
Lloyd Webber's score is as rich and romantic as anything he's ever composed, occasionally approaching the intoxicating period density of Sigmund Romberg and Victor Herbert. But just as the main theme of "Phantom" heavily references Puccini's "Girl of the Golden West," his title song here is more than a touch reminiscent of the theme from the film "The Apartment." Ever since he stopped collaborating with Tim Rice, the lyrics in a Lloyd Webber show take a backseat to the music, and it's no different here. Slater and Hart rely on easy rhymes in the word play and clichés in the song titles.
Anna O'Byrne, as Christine, and Lewis exhibit gorgeous voices and do their best to bring depth to the melodramatic book, but they succumb to soap operatics. Raoul has been made into a nasty drunk, and the silver-throated Jack Lyall complies. Maria Mercedes makes for a forbidding Madame Giry. Sharon Millerchip has a couple of enchanting razzmatazz numbers as Meg, but then she's required to go unconvincingly nuts for the big tragic finish.
For the sake of curiosity, "Phantom" addicts may wish to partake of this pale shadow, as it will probably not make it to Broadway in the flesh. But if you want the real thing, you can see it at the Majestic, where it's still going strong after 24 years.
Presented in cinemas worldwide on Feb. 28 by NCM Phantom and Omniverse Vision. Encore screenings on Wed., March 7, 7:30 p.m. local time. For tickets and locations, www.fathomevents.com.