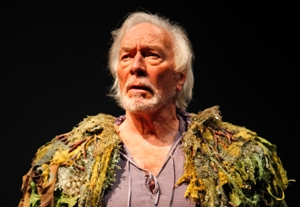 Oh brave new stage that has such actors in't! Des McAnuff's exquisite production of "The Tempest," seen at the Stratford Shakespeare Festival, comes to thrilling life on screen thanks to NCM Fathom's brilliant filming technology. Despite the inherent differences between stage and screen performances, the talented cast, led by Academy Award-winner Christopher Plummer, shine through the cameras, and their energy is exhilarating.
The multi-talented Plummer, an iconic actor for many reasons, seems particularly suited to Prospero. One might say he was born for the part, and it's almost a pity he's waited so long to do it. He commands the stage with a calmness that eases his scene partners, and he recites Shakespearean verse as if it were his natural way of speaking. He makes what is extremely difficult look effortless.
Trish Lindstrom is doe-eyed and lovely as Prospero's daughter Miranda, while Julyana Soelistyo and Dion Johnstone are wonderfully matched as the spirit Ariel and his beastly slave Caliban, respectively. McAnuff doesn't make any surprising choices with how he presents these otherworldly beings, and he sticks to a strict textual interpretation. Soelistyo and Johnstone shed their humanness and disappear in Paul Tazewell's detailed costumes, making the supernatural completely believable. Bruce Dow is hilarious as the comic Trinculo and shares a great stage chemistry with Geraint Wyn Davis as his foppish partner Stephano. Gareth Potter is charming as Ferdinand, Alonso's son and Miranda's future betrothed. In fact, the entire ensemble brings the Shakespearean world to life beautifully, aided by Michael Walton's picturesque lighting and Robert Brill's simple yet effective set.
Performed on the Festival Theater's thrust stage, the filmed version carefully captures the momentum of the dramatic action. In the opening scene, when the tempest strikes the King of Naples' ship, the cameras move about, creating the feeling of seasickness mirrored onstage. And in quieter moments, as when Plummer delivers Prospero's epic monologue while he surrenders his magical powers, the intimate close-ups make the production purely cinematic.
The presentation concludes with a discussion between McAnuff and Plummer about the play, and this recording is a blessing to all who adore classic theater. Though Prospero must drown his book and break his staff, audiences around the world will never have to give up the magic thanks to this film.
"The Tempest" will play in select theaters across the United States 7 p.m., Thursday, June 14. For information, visit www.fathomevents.com.