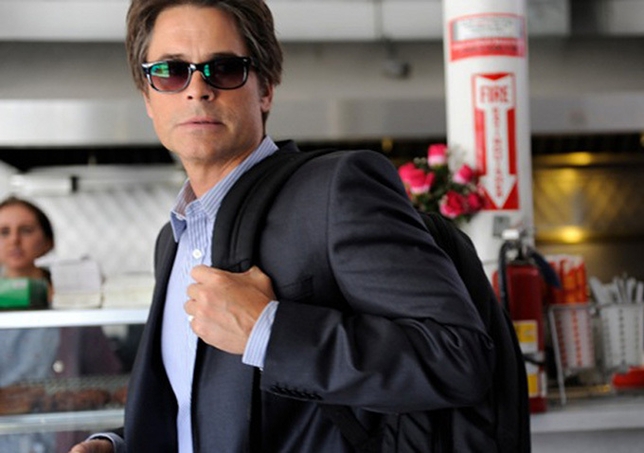 "Knife Fight," which starts off as a political "Michael Clayton," quickly devolves into a touchy-feely underdog movie, directed by Bill Guttentag (who co-wrote the script with Christopher Lehane) with all of the attention to detail and style of a TV movie.
That genre is constantly being quoted here, whether it's in the tee-hee scandals that plague the clients of strategist Paul Turner (Rob Lowe) or the very casting of Lowe as the lead after he's spent the last decade focusing on TV work. Everything about "Knife Fight" is flat and serviceable; there is never a spark of originality that might otherwise enliven the proceedings.
When he's not dealing with a masseuse suing a California senator for sexual harassment or trying to get the Kentucky governor re-elected, Paul is swatting away the head of a free clinic (Carrie-Ann Moss), who wants to run for governor of California based on…well, it would seem that she thinks she's qualified simply by virtue of running a free clinic and collecting thousands of petition signatures from people saying she would be awesome at it. Paul, needless to say, is unimpressed until ba-ba-bum! a scandal erupts that makes him question his entire professional career.
"Knife Fight" at least offers a lot of TV actors the chance to saunter in, lay on some smarmy charm or charming smarm, and then call it a day. Among them are Eric McCormack, preserving his Southern politician character from the Broadway revival of "Gore Vidal's The Best Man"; Julie Bowen as an oh-so-bribable reporter with a thing for Paul; and, most memorably, Jennifer Morrison as a ditzy, tipsy woman with a link to that money-hungry masseuse.
As the plot drifts away from its "politics as dirty business" beginning and Paul and his team embrace the allure of pluck and optimism, "Knife Fight" proves itself idealistic at best and unrealistic at worst. When Lowe's character on the sunny, bone-dry "Parks and Recreation" seems a more likely politico than this strategist, something has gone very wrong.
Critic's Score: C
Directed by Bill Guttentag
Casting by Venus Kanani and Mary Vernieu
Starring Rob Lowe, Jamie Chung, Carrie-Ann Moss, Eric McCormack