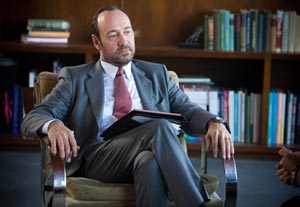 The new indie release "Shrink" is an odd duck. On one hand, it wants to be taken seriously as a character study of a psychiatrist who must navigate the lives of several Hollywood types while trying to keep his own on track. On the other hand, it's yet another in a long line of uneven, indulgent movies set on the fringe of the entertainment industry. Its star Kevin Spacey (whose company also produced) hit similar territory with much more success in 1994's scathing
Swimming With Sharks
, in which he played the agent from hell. As a movie,
Shrink
, which has been recut by director Jonas Pate since its Sundance debut earlier this year, is a bit of a mess. As a performance piece, however, it's got its moments.
The "shrink"-wrapped transparent plot from writer Thomas Moffett merely exists for a talented group of actors to do their thing—some more convincingly than others. Henry Carter (Spacey) is a bored, pot-smoking L.A. shrink and recent widower with an impressively varied list of A-list industry types including a once-famous actor (Saffron Burrows) now walking the downside of fame. There's also a screenwriter (Mark Webber) with either nothing much to say or severe writer's block. Best of all is a neurotic and obsessive-compulsive über-agent (Dallas Roberts), who drives his poor pregnant assistant (Pell James) batty. There's a smattering of other types who infiltrate Henry's little corner of the universe—including an unbilled Robin Williams as a drunken industry veteran who thinks he's a sex addict and a hunky Irish actor (Jack Huston) with drug problems.
Just as Henry is questioning life and his commitment to his patients, into this world comes a pro bono case in which he agrees to treat a poor, movie-obsessed teen (Keke Palmer) from the other side of Hollywood's tracks. It's a turning point for the man—and the film—as he confronts his abilities to deal with the "real" life that has crept into the jaded "reel" life to which he has become so accustomed.
It's easy to see why Spacey was attracted to this role, as it offers a chance to create another rich portrait of a man at the crossroads. Among the large supporting cast, Palmer (
Akeelah and the Bee
) is a standout as a young girl who would rather get lost in old movies than deal with her own reality. In his brief surprise appearance, Williams is ideally cast. Webber, James, and Burrows have their moments as well, but Roberts steals the show as his manic agent weaves in and out of the proceedings. In as frustratingly sketchy a film as
Shrink
turns out to be, Roberts is pure cinematic gold.
Genre
:
Drama. Written by
:
Thomas Moffett. Directed by
:
Jonas Pate. Starring Kevin Spacey, Dallas Roberts, Saffron Burrows, Mark Webber, Keke Palmer, Pell James, Jack Huston, Robert Loggia, Laura Ramsey, Gore Vidal
.