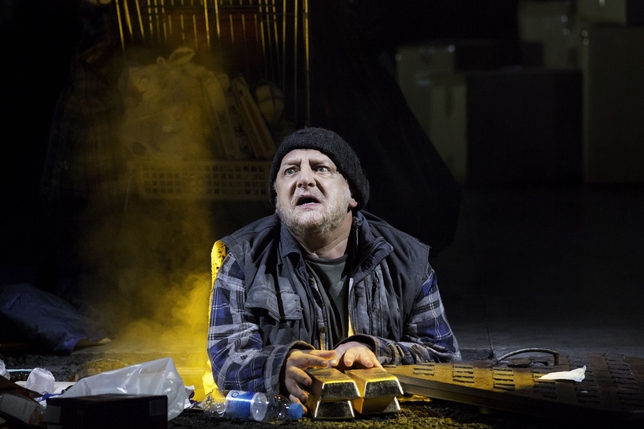 This seldom seen Shakespeare drama, believed to have been written with the younger playwright Thomas Middleton, becomes in this dazzling interpretation by director Nicholas Hytner a contemporary cautionary tale of ruthless capitalism. The story of a profligate hero and his descent into ruination seems just right for these debit and credit times, when friendship is a commodity ripe for purchase and exploitation. This National Theatre Live broadcast is one modern rendering of Shakespeare that actually adds clarification to the play's events, a helpful device for a work that becomes distinctly ragged before its final curtain. The script's two halves do not really cohere, but happily the central—and electric—performance of Simon Russell Beale as Timon is skillfully diverse enough to provide the glue.
Hytner sees Athens as present-day London, making the opening scene a sponsors' party set in a gallery named the Timon Room, with our protagonist as a patron of the arts. Timon is being besieged by would-be artists, amusingly represented by a poet (Nick Sampson) and a painter (Penny Layden), as he plays at being lord bountiful. Always in a fawning crowd, we next see him at a lavish dinner with cabaret entertainment, where he announces, "I am wealthy in my friends." The only truth tellers present are the cynical Apemantus (Hilton McRae) and Timon's faithful steward Flavia (Deborah Findlay), who advise him that it's "so unwise to be so kind." Soon Flavia is telling her employer that the coffers are bare, and as Timon reaches out to his friends for help, he finds them "false hearts" and himself ostracized. Timon's immediate revenge is to summon these previous followers to a banquet, where they are served plates of excrement. Ever present as background to these scenes of Timon's downfall are groups of angry citizens, a kind of Occupy Athens movement, implying a wider economic crisis.
For the second half Hytner places the outcast Timon in a cardboard wasteland, with office skyscrapers looming behind. Although there are visits by Apemantus, Flavia, and others, the play becomes the derelict Timon's cry in the wilderness, one long howl of disgust against man's ingratitude and the power of gold. Given the several loose ends and limp finale, we are lucky during these scenes to be in the presence of the talented Beale, who provides the poetry and rage of a lesser Lear. In the beginning the actor cleverly invests his likable character with a sort of vain pride, making Timon's fall seem more or less inevitable.
One of the great advantages of Hytner's concept is that women are part of the scene. Notable of these is Findlay's steward, radiating goodness, and Layden's perky painter. McRae's Apemantus is the play's voice of reason, and an authoritative voice it is. But the biggest laurels go to Hytner and Beale, who together make "Timon of Athens" come alive again.
Presented by National Theatre Live. For a complete list of dates, times, and locations, visit www.ntlive.com.
Critic's Score: A