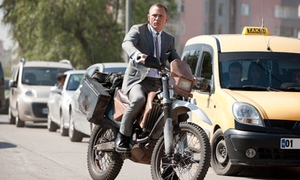 Daniel Craig's muscular, no-nonsense grit gave his first James Bond film, "Casino Royale," an urgency that the venerable series had been sorely lacking. The follow-up, "Quantum of Solace," was a snooze, but "Skyfall" rights the ship, and again much of it has to do with Craig, who plays Bond this time as a slightly aging agent who those around him fear has lost a step. He's pitted against a maniacal terrorist (Javier Bardem) nursing a mysterious personal vendetta, and in the hands of director Sam Mendes (best known for his Oscar-winning "American Beauty") this is a wonderfully taut and quite often bold Bond installment. The film's central joke is that, like Bond, this 50-year-old franchise may be a little old-fashioned, but that doesn't mean it doesn't still have plenty of class and punch. Bardem walks a fine line between inspired and campy in his performance as Bond's flamboyant nemesis, and Craig's charismatic cool is complemented by a fine supporting cast, especially Judi Dench, whose M ends up being quite critical to the final outcome.
"Lincoln" dramatizes the twilight of our 16th president's life, and what's remarkable about director Steven Spielberg's film is how it stirringly shows the man in all his weary, embattled glory in the final months of the Civil War. The rage and misanthropy that Daniel Day-Lewis brought to his Oscar-winning performance in "There Will Be Blood" is wiped clean for his portrayal of the reflective, mild-mannered, but determined Abraham Lincoln, who must outsmart and outlast his political enemies to try to pass the 13th Amendment, which would abolish slavery. The Lincoln we know from history books is on display a little, but Spielberg and Day-Lewis eschew presenting a highlights reel of the president's greatest hits. To the contrary, "Lincoln" emphasizes his humanness, showing how despite the enormous pressure he felt—from both the divided nation and his wife and children—he rose to the challenge of ending one of America's greatest shames, wielding humor, cunning, and unbending resolve in the face of long odds. The film is studded with stars such as Tommy Lee Jones, Sally Field, David Strathairn, Hal Holbrook, and Joseph Gordon-Levitt, but "Lincoln" belongs to Day-Lewis. He makes Lincoln's simple decency enormously heroic.
There's seemingly nothing decent about what the main characters in "28 Hotel Rooms" are doing. Writer-director Matt Ross' romantic drama involves a series of hotel rendezvous between an author (Chris Messina) and a married woman (Marin Ireland), observing how their long-running tryst goes from no-strings-attached sexy to something more meaningful. The movie's casual intimacy allows for natural performances from the leads, who credibly illustrate their characters' emotional complexity, even though we learn almost nothing about them aside from what they tell each other during their encounters. For fans of Messina, who has been good in small film roles ("Julie & Julia") and as part of ensemble TV shows ("Damages"), "28 Hotel Rooms" finally gives him a chance to carry a narrative, and he delivers with a performance that highlights his ability to be vulnerable and magnetic at the same time.
Common is an acclaimed hip-hop artist whose transition to actor has been less than compelling. Still, he gets one of his best vehicles in "LUV," a drama in which he plays Vincent, a criminal recently released from prison who spends a day with his impressionable young nephew Woody (Michael Rainey Jr.). "LUV" is largely a predictable coming-of-age tale as Woody begins to understand that the uncle he emulates can't break free of his old ways, no matter how much Vincent tries to start living a righteous life. But with that said, Rainey ably portrays Woody's streetwise moxie, and Common nicely highlights the morally conflicted Vincent's dogged determination to change his ways, even if the film's look at inner-city crime and poverty, while heartfelt, doesn't contain much insight.
The heralded South Korean filmmaker Hong Sang-soo specializes in small comedy-dramas that revolve around his deeply flawed characters' romantic foibles. If you're new to Hong's work, his latest is a fine place to start. "In Another Country" stars Isabelle Huppert as three different women, each named Anne, who are part of separate half-hour stories that all take place in a sleepy beach town. In one she's meeting a married man for an affair; in another she's rejecting the advances of a different married man. The challenges of finding an emotional connection unite these slight but funny and touching tales, and Huppert conveys each Anne's searching spirit with a grownup sexiness that makes it easy to see why she's the object of so many men's affection.
Affairs of the heart also play a major role in "A Royal Affair," a historical drama set in 18th-century Denmark. The mentally ill King Christian VII (Mikkel Boe Følsgaard) becomes fast friends with Johann Friedrich Struensee (Mads Mikkelsen), a physician who soon serves as a mentor, encouraging Christian to embrace the Age of Enlightenment to improve conditions in the kingdom. Their bond is tested by the king's wife, Caroline Mathilde (Alicia Vikander), who begins a passionate affair with Johann that threatens to undo their progressive political agenda. At its weakest, Denmark's official Oscar entry for best foreign language film has all the hallmarks of a tasteful prestige picture—beautiful costumes, melodramatic storytelling—but it's elevated by director Nikolaj Arcel's careful attention to the ways in which high ideals can be dashed by messy human failings.