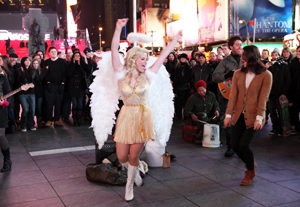 Now that the "Marilyn" workshop is over, "
Smash
" has to have some drama and the writers certainly supplied it, giving us an onstage breakdown, a marriage breakup, a Republican fundraiser, and the network acting debut of the New York Post's theater columnist
Michael Riedel
. Plus, Ellis (Jaime Cepero) made himself even more disgusting to me.
The hour starts with enough plotlines to confuse anyone. Karen (Katharine McPhee) and Ivy (Megan Hilty) are auditioning for the same commercial; Frank (Brian d'Arcy James) sees something ominous in some sheet music his wife Julia (Debra Messing) has left by the bedside; Ivy reveals she's been taking more dolls than
Neely O'Hara
; and Tom (Christian Borle) discovers his sort-of boyfriend John (Neal Bledsoe) is a Republican. They've been dating and sleeping together for weeks and politics never came up? Meanwhile, Derek (Jack Davenport) threatens to walk away from the project unless a star is cast and Eileen (Anjelica Huston) counters by calling in the Tony-winning director Doug Hughes ("Doubt"). All 20 of the people watching who know who Doug Hughes is perk up with, "Oh, there's a name I recognize!" Ivy walks into Bernie Telsey's casting office as Karen is walking out and the two get their sunglasses mixed up. The plot thickens.
(During the commercial break, there's an amazing Accura ad that evokes "Gulliver's Travels.") Just as she's trying to pick up waitressing shifts, Karen learns she's got the commercial -- just a few hours after she auditioned. Sorry, ladies and gentlemen, it doesn't happen that fast in real life. In contrast to Karen's good luck, we switch to Ivy toiling away in the chorus of Tom and Julia's currently running show "Heaven on Earth." Norbert Leo Butz headlines a weird number about rich people arriving in the hereafter as Ivy pouts in the background as an angel.
The song that Frank found by Julia's bed somehow reveals to him that she had an affair with Michael (Will Chase) and, as he did last week, d'Arcy James teases us again by singing just a few phrases of it. During the big confrontation scene, Messing emotes all over the place, but her subtext is pure "Emmy nom!" (This commercial break includes a spot for shingles awareness. What is the demographic here?)
The very next day, Karen is in production for the orange juice commercial. Again, it doesn't happen like that. But we did get to my favorite line of the whole show. When Karen starts sipping the OJ after being rushed through a rehearsal, the assistant director curtly says, "Don't drink that." Has she never seen Lucy battle with Vitametavegamin? Then Frank decks Michael for sleeping with his wife and Ellis flirts with the male manager (Sean Dugan) of Rebecca Duval, a prospective star for "Marilyn." Eileen has dinner with Doug Hughes in front of a wall full of scary faces and Riedel pops in and gives a brilliant two-minute performance. Major plot point: Karen and Ivy discover they mixed up their sunglasses, which drives Ivy to take more pills in front her mirror covered with pictures of Marilyn. She's taking Method too far.
Derek bursts into Eileen's office and calls Ellis a Chihuahua—my second favorite line of the night. Ivy gets more angry and depressed over losing the lead in "Marilyn" and then the orange juice commercial, so she takes even more dolls and staggers through the "Heaven on Earth" number. Meanwhile, Ellis hits an all-time low by sleeping with the manager to get him to push for his client to star in the musical. So I guess he's bisexual and willing to sleep his way to the top. Speaking of all-time lows, Tom attends John's Republican fundraiser, and there are no juicy arguments.
Karen arrives at the theater to return Ivy's sunglasses just in time to see her crash and burn onstage and get yelled at by Norbert Leo Butz. Like the stage manager would let Karen backstage during a performance. Anyway, Ivy bolts out of the theater in costume -- this show has a lousy backstage crew -- and she and Karen get drunk in Times Square as they deliver this week's impromptu production number, somehow worse than last week's bowling alley free-for-all. It involves a shaggy keyboardist with dancing dolls and a girl guitarist who suddenly appears from nowhere.
Tom apparently breaks up with John because of his politics;that and the fact that the sex was awful. Frank walks out on Julia and Eileen slaps down Ellis when he tries to force his way into a co-producer position. The episode ends with Julia coming up a new title for the show: "Bombshell." Doesn't every Broadway musical want the word bomb in the title? Uma Thurman guest stars next week as Rebecca Duval, and it looks like we get more violence, with Dev punching Derek this time.
"Smash" airs at 10 p.m. (EST) Mondays on NBC.