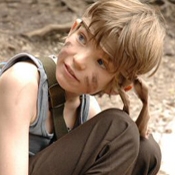 Son of Rambow is at once charming and a tad dull. The story of two lonely lads -- one a bully, the other a victim -- joining forces in 1980s England to make a movie inspired by First Blood no doubt has its whimsy. Consider the misspelling of "Rambo." And the film has nostalgic appeal. The world of junior high school, boyhood rivalries, cliques, and, most central, the cinematic imagination of two youths strutting about with handheld cameras is clearly evoked. So, too, are their earnest efforts at moviemaking, with primitive storytelling, childlike imagery, and absurd overacting -- all of it testifying to their boyish love of Sylvester Stallone's iconic Rambo.
Their oppressive families are fully realized as well. Will Proudfoot (Bill Milner) is a child of the Brethren, a conservative religious group that views television, films, novels, computers, and fancy clothes as distractions from worship. By contrast, Lee Carter (Will Poulter) is a rudderless youth without restraints of any kind; indeed, he has no family, short of his indifferent elder brother (Ed Westwick). Still, the romanticized notion of two kids on opposite sides of the track bonding and transforming themselves and everyone else in their wake is not wholly plausible, even within the framework of a lighthearted flick. The tone is by turns delightful or cloying or both. It's an oddball amalgam. Either way, the film proves interesting only intermittently.
That said, many of the performances are noteworthy. Poulter is terrific as the school terror with a sensitive soul. Likewise, Milner subtly captures an overly sheltered child coming into his own. Jessica Stevenson is memorable as Will's mom, Mary, a woman torn between her religious convictions and her love for her son. Neil Dudgeon succeeds in making the theologically rigid Joshua, who is courting Mary, almost benign. Westwick creates a cold, callous sibling struggling to feel compassion for his brother and just barely making it. But the most vivid performance is given by Jules Sitruk as French exchange student Didier. Sitruk vividly brings to life a cocky punk who is wonderfully devoid of redeeming qualities and thus endlessly attractive to the girls in school. Plus, he's a role model to the boys. Watching him is almost (but regrettably not quite) worth the price of admission.
Genre: Drama
Written and directed by: Garth Jennings
Starring: Bill Milner, Will Poulter, Jessica Stevenson, Jules Sitruk, Ed Westwick