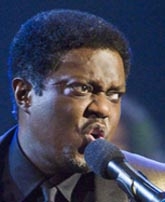 Doing a Sunshine Boys-style riff on a Sam and Dave-type soul duo, Samuel L. Jackson and the late, great Bernie Mac give the wobbly musical comedy Soul Men their all, but in the end it's not enough. The premise, perhaps in more subtle hands than director Malcolm Lee's (Undercover Brother, Welcome Home Roscoe Jenkins), might have worked, but it's a real stretch. Jackson, in particular, seems woefully miscast and unconvincing as a guy who was once on top of the charts.
Louis (Jackson) and Floyd (Mac) were supposedly a very popular team of hit-makers who broke up and never spoke to each other again. The death of their former group leader (John Legend) brings them back together for a cross-country drive to New York to perform in a tribute concert at the Apollo Theater. Accompanied by a young woman (Sharon Leal) who may or may not be Floyd's daughter, the idea is that along the way they will play local club gigs to retrieve their musical mojo, get their personal and professional act together, and bury the hatchet before their big comeback .
The problem is, the whole enterprise seems forced and contrived. This duo, who hadn't talked for 20 years, really had to get into an old lime-green Cadillac El Dorado and drive together to this concert? It's as if screenwriters Robert Ramsey and Matthew Stone didn't have a clue how to stretch their concept into a feature film so they brought out the hoary old chestnut of a road trip and created a lot of unnecessary and unbelievable situations to fill the 103-minute running time. We certainly could have skipped the redneck encounters and the broadly played sexual situations that are meant to be hilarious but just fall flat.
Since this is one of Bernie Mac's final appearances (he's also a voice in this week's Madagascar: Escape 2 Africa), it's at least nice to point out he comes out of these high jinks with head held high and mines some laughs as the sex-starved, Viagra-popping half of the team. However, his encounter in a cheap hotel room with voluptuous trailer trash (Jennifer Coolidge) is unfortunately way over the top. Jackson seems mismatched and uncomfortable going toe to toe with the more comedically experienced Mac. The musical teaming works better than the comedy teaming at least because of some nifty numbers they get to perform. Their invented soul stylings are the one real consistent treat of the movie.
Sean Hayes, playing the catalyst for their return, is wasted as the ambitious son of their former manager; ditto for Adam Herschman as a fanboy intern at his firm. Legend makes his acting debut here without much to do other than sing the great Sam and Dave classic "I'm Your Puppet" in a number with Mac and Jackson. It's a highlight. Also of note is the late Isaac Hayes (he died in August, the same weekend as Mac) who has a small bit near the end.
Although the movie is no great shakes, the end credits with tributes to Isaac Hayes and Mac are classy and enlightening and a fitting tribute to two very different soul men.
Genre: Comedy
Written by: Robert Ramsey and Matthew Stone
Directed by: Malcolm Lee
Starring: Samuel L. Jackson, Bernie Mac, Sharon Leal, Jennifer Coolidge, Sean Hayes, Adam Herschman, John Legend, Isaac Hayes