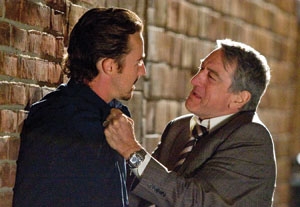 On paper, "Stone" has a lot going for it: Robert De Niro and Edward Norton reuniting; Milla Jovovich as the duplicitous babe; the writer of the indie darling "Junebug"; and director John Curran ("The Painted Veil") leading the way. Unfortunately, the finished film sinks like a stone.
De Niro is Jack Mabry, a weary prison parole officer on his way out the door. One would be willing to forgive the cliché of the guy on the verge of retirement getting derailed if Mabry's character was at all interesting or if the film was any good. Some would argue that the "Raging Bull" star has been coasting for a while on autopilot, and this film reaffirms that status. Okay, not as low as "The Adventures of Rocky & Bullwinkle," but close.
Then there's Norton, for whom this film will surely become known henceforth as "the Ed Norton cornrow movie." Norton plays the title character, a manipulative criminal up for parole on a 10-to-15-year sentence for torching his grandparents' house—with them in it—while high on crack. Norton apparently decided that it would benefit his character to have an accent and raspy voice, so he threw Creole, Boston townie, Eminem, and Wolfman Jack in a blender, with uneven results. The hairstyle the character wears for most of the film also doesn't help plead Norton's case.
The drama, or lack thereof, unfolds mostly at a desk in a badly lit office with the distractions of poor sound, sound effects, soundtrack, and even worse dialogue. A sample of the preposterous gibberish coming out of Stone's mouth as he attempts to prove his rehabilitation to Mabry: "I don't wanna have no beef with you. I'm just going to go vegetarian." Eventually, Stone's ramblings and lack of three-dimensionality drive Mabry, and the audience, over the edge. The roots of the problem are the poor script and the characters' lack of likability.
The movie even manages to make sex boring. Jovovich plays Stone's gorgeous wife, Lucetta, a sweet preschool teacher by day and a vixen off-duty. Lucetta has remained remarkably devoted, though unfaithful, to Stone for the eight years he has been in the slammer, and when Stone asks her to speak with Mabry about his parole, she takes "speak" to mean "sleep." She awkwardly seduces Jack, then mildly stalks him, to our bafflement. Jovovich overacts and gives in to gratuitous nudity, but she can't be blamed for this train wreck of a movie. Frances Conroy as De Niro's repressed, religious wife does the best she can with her limited part and the limits of the script.
Genre: Drama. Written by: Angus MacLachlan. Directed by John Curran. Starring: Robert De Niro, Edward Norton, Milla Jovovich, and Frances Conroy.