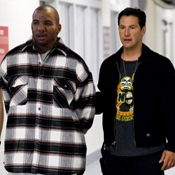 A blaring bedside alarm. The foreboding steel of a side arm. This is how we're introduced to LAPD vice cop Tom Ludlow (Keanu Reeves), who lurches out, fully clothed and haggard, from under the covers to stare in the mirror and vomit in the toilet. Stopping first to pick up a little hair of the dog that bit him, Ludlow heads out on an unsanctioned recovery mission — adolescent twins have gone missing in Koreatown — and the body count rises as steadily as the tally of Street Kings' tired plot twists. When it's all said and done, we wish he'd hit the snooze instead.
Director David Ayer (Harsh Times) moves the plot along well, but it's laced with aerial and street shots of L.A. locales that are trite and decidedly unominous, breaking the tension they're meant to build. The script (James Ellroy, Kurt Wimmer, and Jamie Moss) tries too hard to give us an engrossing conspiracy drama, and this overzealousness extends to the gratuitously graphic violence and the contrived, sometimes ludicrous dialogue. Though any actor would stumble over these words, Reeves isn't up to the challenge. Ludlow is a balls-out hothead who operates above the law, protected by his captain, Wander (Forest Whitaker), who repeatedly refers to him as the "tip of the spear" or similar. Reeves just can't make us believe he's that man, especially without his Speed physique.
Wack job Wander plays like a circus version of Whitaker's Last King of Scotland dictator, Idi Amin, sans formidability. In essence, Whitaker, though fully committed to the role and therefore believable in it, gives us nothing we haven't already seen him do better. The same can be said of Hugh Laurie as internal affairs investigator Capt. Biggs, whose arrogance and endgame maneuvering recall Laurie's title character on House. Amaury Nolasco is enjoyable in a sharp turn as Detective Santos, a member of Wander's vice squad, and though Jay Mohr is surprisingly vicious as vice sergeant Clady, one wishes his appearance didn't evoke Reno 911's Lieutenant Dangle. Naomie Harris gives a truthful, emotional performance as the widow of the murdered Detective Washington, former Ludlow partner turned I.A. nark. Cle Sloan and Common are appropriately thuggish as dirty deputies, and Cedric the Entertainer provides genuine comic relief in a small and nearly purposeless role.
An unexpected diamond in the rough here is Chris Evans as the earnest Detective Diskant, who tags along on Ludlow's twisted quest for justice and exoneration. Diskant — or "Disco," per Ludlow — is an honest cop in this corruption fable, though we don't at first know which side of right he's on. Evans is engaging and brings us closest to sympathizing with a character. If only he'd had more of an arc. And that's the problem throughout: The actors aren't characterizing poorly; the characters are all flat. None transition; we simply find out if they're inherently good or bad. Unfortunately, we don't care.
Genre: Action/Drama
Directed by: David Ayer
Written by: James Ellroy, Kurt Wimmer, and Jamie Moss
Starring: Keanu Reeves, Forest Whitaker, Hugh Laurie, Chris Evans