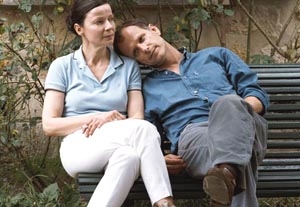 A beautifully done French film (with English subtitles),
Summer Hours
is about family relations, feelings toward deceased parents, and one's inheritance—literal and metaphorical. It recounts what happens when an elegant matriarch (Edith Scob) dies and her three adult children need to decide what to do with her beloved country home and her impressive art collection. The eldest (Charles Berling), who still lives in France, is determined to keep the house and everything in it intact as a communal gathering place for the family. His two siblings, however, want to sell it and divide the proceeds. The youngest (Jérémie Renier) has family and business in China, while the sister (Juliette Binoche) is an American-based designer. Neither sees the old homestead as a likely vacation spot.
Olivier Assayas' writing and direction are subtle and the performances nuanced. Though Scob regrettably has little screen time before her character dies, she creates a complex three-dimensional woman who has the foresight to understand the peculiar burden of inherited possessions. Berling evokes the troubled soul of an adult child tied to his late mother—and by extension her belongings—yet outvoted by a brother and sister he loves and understands. Equally believable is Renier as the youngest in the family, who is ambivalent about selling his mother's property and, especially, standing up to his brother, perhaps for the first time. But the most interesting character is embodied by Binoche, who clearly feels removed from her family and their lives. Her release at her mother's death is palpable. So, too, is her terrible sadness. She is freed from the past and will, in all probability, have little contact with her brothers in the future, though in her own way she is attached to them. In smaller roles, Isabelle Sadoyan and Alice de Lencquesaing are also noteworthy as, respectively, the old woman's loyal housekeeper and a granddaughter who are particularly affected by her death.
Comparisons will be made with Chekhov's
The Cherry Orchard.
While there's undoubtedly similarity in subject and elegiac tone, there's also a fundamental difference. Ranevskaya and Gayev lose their ancestral home because they are totally dysfunctional—and arguably on their way to symbolic extinction. The siblings of
Summer Hours
are, by contrast, highly functional and thriving. But in each story, the events are inevitable.
Genre: Drama
Written and directed by: Olivier Assayas
Starring: Juliette Binoche, Charles Berling, Jérémie Renier, Edith Scob