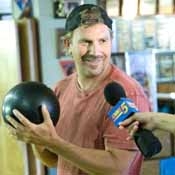 With Swing Vote, Kevin Costner has found yet another role that fits like a glove — and there's not a baseball bat in sight. Although the film's title and the poster's key image of a smiling Costner wearing a red ball cap could lure one into thinking he's made another movie on America's pastime à la Field of Dreams or Bull Durham, don't be fooled. Swing Vote is a very amusing, often hilarious look at a presidential race that comes down to one unfortunate voter: beer-guzzling, trailer-park-living good ol' boy Bud Johnson (Costner).
For this star, whose recent films have not hit it out of the park financially speaking, Swing Vote is well-timed: It's released just as interest in the "real" election is starting to percolate. That Costner nails this NASCAR-loving but socially irresponsible divorced dad should not come as a surprise. He's ideally cast in a character role that not only lets him play dumb but also allows him the opportunity to wax nostalgic on just what the value of one man's vote really means. It's vintage Costner.
As for the film itself, audiences will have to buy into the premise that a major national election for the next occupant of the White House could come down to just one vote, in one state (New Mexico), in one town, in one trailer park. Of course, with the last two presidential elections ending in controversial closer-than-close outcomes and with blue and red states evenly matched, Swing Vote may be closer to reality than we might imagine.
The setup is simple. Johnson's precocious 12-year-old daughter, Molly (Madeline Carroll), upset with her dad for ignoring his civic duty, decides to cast a vote herself by forging her father's name and sneaking in to vote in his place. When an electrical malfunction nullifies her ballot, officials track down the clueless Bud to verify it was his vote and inform him that he must recast it in 10 days to effectively elect the next president of the United States. Both campaigns and the national media then storm the town, all bets are off, and the presidential race is suddenly being run for the one guy who doesn't even know the candidates' names.
In addition to Costner being right in his groove with this material, there is an outstanding supporting cast, beginning with Carroll, a real find as the know-it-all Molly (apparently Abigail Breslin was busy). Kelsey Grammer as ultraconservative incumbent President Andrew Boone and Dennis Hopper as his environmentally PC Democratic opponent, Donald Greenleaf, are perfectly cast as candidates willing to give up their core values in the pursuit of literally one vote. Instant TV ads they produce to reach Bud are right on target in the era of the flip-flopping candidate. As Greenleaf's beleaguered manager, Nathan Lane is droll and witty, while Stanley Tucci gets some of the film's best lines as Boone's ethically challenged hatchet guy. Adding authenticity is a slew of real-life TV commentators, such as Larry King and Bill Maher, who act as a sort of Greek chorus.
Genre: Comedy
Directed by: Joshua Michael Stern
Written by: Joshua Michael Stern and Jason Richman
Starring: Kevin Costner, Madeline Carroll, Kelsey Grammer, Dennis Hopper, Nathan Lane, Stanley Tucci