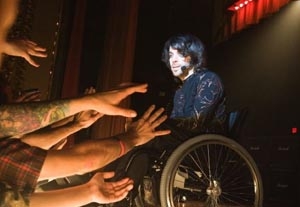 Oscar-nominated actor Mark Ruffalo makes his feature directorial debut with this strange fable about a paralyzed faith healer. Ruffalo shot this with a documentarylike style, adding to the gritty feel of the film. Written by and starring Christopher Thornton, "Sympathy for Delicious" follows Dean O'Dwyer (Thornton), also known as "Delicious D" for his DJ work in L.A.'s underground music scene. Dean is down on his luck: paralyzed from the waist down from an accident, living out of his car, penniless, and frequenting a Skid Row soup kitchen. Out of the blue, he finds himself inexplicably able to heal others' afflictions—a gift he does not welcome. After all, he can't cure himself; why should he care about healing others?
Ruffalo plays Father Joe, a dedicated priest who befriends Dean. When Father Joe realizes Dean's power to heal, he talks Dean into helping raise money for the church by curing people and allowing the priest to collect donations, some of which are quite large. While Dean now has a roof over his head, thanks to a cheap motel room and a few bucks in his pocket, Dean soon recognizes he's getting the raw end of the deal and looks to profit from his new gift.
Enter an entirely different storyline revolving around a grungy rock band that, again, capitalizes on Dean's ability to heal but turns it into a carnival side act. This time, Dean profits, but his soul founders. Ruffalo was able to attract his "You Can Count on Me" co-star Laura Linney as the band's scheming manager, Orlando Bloom as the egotistical lead singer called The Stain, and Juliette Lewis as, predictably, a drugged-up band member. Just typing that sentence makes me relive the pretension of this storyline and its dialogue. So much of it is preposterous that it feels like a different movie from the first act. Also appearing is Noah Emmerich as a paraplegic who refuses to give up hope that he can walk again.
What makes this film so compelling is Thornton, who is mesmerizing. Though Thornton has written a fantastic and complicated part for himself, he failed to do the same for most of his supporting players, who don't have nearly enough to work with—the exceptions being Emmerich and Ruffalo. Thornton had years to work on this script while he and Ruffalo, who co-produced the film with Thornton, shopped the project around for a decade. Why it never dawned on them to flesh out the rest of the characters is a mystery.
Without giving away the ending, I love how Thornton and Ruffalo wrapped the film up. I look forward to whatever Thornton does next, as a writer, but especially as an actor. I just hope his next script is stronger.
Genre: Drama
Written by: Christopher Thornton
Directed by: Mark Ruffalo
Starring: Christopher Thornton, Mark Ruffalo, Laura Linney, Orlando Bloom, Juliette Lewis, Noah Emmerich.