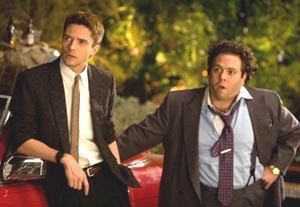 On the shelf for four years at Universal under the title "Kids in America" (which sounds like a documentary), this frenetic 20-somethings comedy was rescued by Relativity Media and now released under a new title which at least is closer to the truth of the film's party-hearty spirit.
Actually the film feels more like a slightly older version of "Ferris Bueller's Day Off" in some ways but doesn't have the style or wit to measure up.
The problem, for the most part, is director Michael Dowse and writers Jeff and Jackie Filgo's tendencies to go over the top and ramp things up just when the story should be slowing down and focusing on the relationships of its main characters. Still, there's nothing startlingly original going on here, so maybe that's why the filmmakers decided to overcompensate with beer-guzzling, get-down party antics to carry the day.
Topher Grace is MIT grad Matt, who just can't seem to get it together, so he lives with his parents while working at a video store. One day a girl, Tori (Teresa Palmer), he had a childhood crush on walks into the store.
Thinking there's maybe a chance, he lies to her and says he's a hotshot banker with Goldman Sachs. Turns out she's a commodities trader and knows a bit too much about the business for Matt's comfort. He decides to reconnect with her at a wild Labor Day weekend party at which booze, drugs, and sex are de rigueur.
Eventually he gets the balls to prove his mettle by getting into the Ball, a giant rolling metal contraption that tests the will of anyone who will get in and let it roll. Of course the party is being thrown by his high school rival, and he feels the need to do this idiotic trick to look good in front of Tori, as things aren't going the way they should.
There are a lot of drunken exchanges, frat boy antics, destruction, loud music, and other elements you might expect of a film of this type. The problem is so much of it feels dated and kinda dumb.
Grace is an appealing screen presence, and he's a nice anchor for a lot of the shenanigans going on here, but unfortunately his quasi-blandness needs a little more Bueller-style fuel to make this take off. Palmer is a very attractive presence and has her moments, but the chemistry between the pair is fairly nonexistent.
The stereotypical characters that make up the supporting cast are exactly what you might expect, particularly from Matt's best friend, played to the hilt by Dan Fogler, and Matt's sister, Wendy, nicely performed by Anna Faris. Chris Pratt plays her dopey boyfriend, but he gets little to do.
Genre: Comedy
Directed by: Michael Dowse
Screenplay by: Jeff and Jackie Filgo
Starring: Topher Grace, Anna Faris, Dan Fogler, Chris Pratt, Teresa Palmer, Michael Biehn.