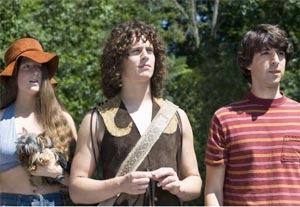 Taking Woodstock" may not exactly be what the title and the marketing campaign indicate. Those who go expecting to relive the nostalgia and musical glories of a landmark 1960s happening will be sorely disappointed. In fact, many of the iconic acts and songs associated with the festival are missing here. But director Ang Lee and writer James Schamus have something far different in mind: a coming-of-age movie set against a historic cultural event, and in that sense at least "Taking Woodstock" is a triumphant human comedy and mind-bending trip back to the '60s that is well worth taking.
Based on the autobiography of Elliot Tiber (Demetri Martin), Schamus' script revolves around events in his life in the summer of '69, when he moves back from Greenwich Village and its burgeoning new gay movement to White Lake, N.Y., where he attempts to save his parents' (Henry Goodman and Imelda Staunton) fleabag motel from being taken over by the bank. Hearing that a planned music and arts festival in neighboring Wallkill has lost its permit, Elliot gets in touch with the promoter (Jonathan Groff), offering his parents' motel, as well as introducing him to a neighbor (Eugene Levy) who runs a dairy farm nearby. The rest is history.
"Taking Woodstock" doesn't always work, but it is blessed with a superior cast, led by Martin, a standup comedian–turned-actor who is a fine discovery, delivering just one of many terrific performances from a great ensemble. Martin is enormously appealing in perfectly capturing the hope and conflict in a young man whose confused sexual identity and love for his parents converge in a defining experience that will change his life for good. As his father, Goodman is wonderful, but Staunton overdoes the Jewish mother bit, at times drifting into stereotype. A scene in which both parents accidentally get high on hash seems false and over the top. Groff (Broadway's "Spring Awakening," making his film debut) is a standout as a sharp, visionary promoter. In his few scenes, Levy brings his professionalism and humor into play. Among the rest of the cast, Dan Fogler as a theater troupe leader and Emile Hirsch as a returning Vietnam vet seem to have fun with their roles—as does Liev Schreiber, enjoying a change of pace as Vilma, a cross-dressing ex-Marine who helps Elliot in his cause.
Bottom line: Take this "Woodstock" for the vibrantly entertaining coming-of-age story it is at heart, and you'll probably have a good time—even if Jimi Hendrix is nowhere to be found.
Genre
:
Comedy. Written by
:
James Schamus. Directed by
:
Ang Lee. Starring
:
Demetri Martin, Jonathan Groff, Eugene Levy, Imelda Staunton, Henry Goodman, Liev Schreiber, Dan Fogler, Jeffrey Dean Morgan, Emile Hirsch
.