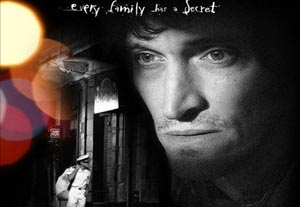 Francis Ford Coppola—winner of five Oscars and the man who gave us, among others,
The Godfather
trilogy,
The Conversation
, and
Apocalypse Now
—has, at age 70, entered into his "experimental" phase. First there was last year's well-crafted but incomprehensible
Youth Without Youth
and now
Tetro
, a beautifully shot black-and-white film about two brothers that represents the first original screenplay Coppola has tackled in 30 years.
Tetro
is far more accessible and intriguing than
Youth
; this time Coppola focuses on the rivalries in an artistic family. He has assembled a splendid international cast for his story set and shot in Buenos Aires.
Clearly influenced by films of the 1950s and '60s that focused on difficult family relationships that might have been done by the likes of Elia Kazan,
Tetro
centers on a naive and idealistic 18-year-old named Bennie who comes to Argentina to search for his much older brother, Angelo. Now known as Tetro, Angelo is a once-promising writer who basically abandoned his family in America and never came back. What Bennie discovers when he finds and moves in with him and and his long-suffering girlfriend Miranda is an embittered, angry, and frustrated man who never reached his potential. Tetro now works as the lighting guy at a small theater that puts on little-seen, over-the-top, melodramatic works. When Bennie comes across a nearly finished but abandoned manuscript, he takes matters into his own hands and proceeds to get it produced behind his brother's back, an incident that causes great friction between the pair and changes the direction of both their lives.
Casting volatile actor-writer-director Vincent Gallo in the title role is a bold move that pays off, with Gallo's style of naturalistic acting ripe for the requirements of Tetro, particularly in his dust-ups with his younger brother, appealingly portrayed by newcomer Alden Ehrenreich, the only other American in the film. Coppola plucked Ehrenreich, a dead ringer for the young Leonardo DiCaprio with a dash of Matt Damon on the side, out of high school and managed to get a charming, idealized performance out of him that makes Bennie a nifty adversary for Gallo. Their scenes together crackle and recall the best of Inge, Visconti, and even Shakespeare at times. As Tetro's girlfriend, Spanish actor Maribel Verdú is warmly inviting and a wonderful counterpoint to the unpredictable histrionics of Tetro. Spanish legend Carmen Maura in also on board and a total hoot as "Alone," the self-styled apparent queen of all arts in Argentina. Appearing in color flashback sequences, Klaus Maria Brandauer makes a vivid impression as Tetro's domineering father, a world-renowned symphony orchestra conductor.
Although some of
Tetro
is uneven and melodramatic, it's a stunning-looking and noble effort from a cinematic legend who clearly is just getting started.
Genre: Drama
Written and directed by: Francis Ford Coppola
Starring: Vincent Gallo, Alden Ehrenreich, Maribel Verdú, Carmen Maura, Klaus Maria Brandauer