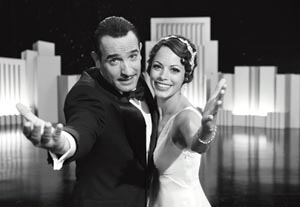 "The Artist" is an original, lyrical, and at moments haunting valentine to black-and-white silent films. Indeed, it's a love letter to American filmmaking traditions. Interestingly, the picture was made by French director Michel Hazanavicius and features two French stars, Jean Dujardin and Bérénice Bejo. But most impressive, it is a wonderful silent film—with an evocative score and stylized acting—that becomes the perfect vehicle for the story being told.
Set in Hollywood in 1927, "The Artist" recounts the troubled life of flamboyant silent-film star George Valentin (Dujardin), a matinee idol adored by millions. When talkies become the rage and he is incapable of adapting, he becomes obsolete virtually overnight. As he grows increasingly despairing, isolated, and unemployable, his wife (Penelope Ann Miller) dumps him, the stock market crashes, and he loses his home. Simultaneously, his young protégé Peppy Miller's star is rising. The young "talking" actor (Bejo), with whom he's in love, represents the new guard in Hollywood. She in turn falls in love with him and is determined to help him without further damaging his pride.
As well as its subject matter and themes, the narrative boasts just the right amount of melodrama, romance, and comedy to mesh brilliantly with the silent-film conventions. The performances, especially from the leads, are uncanny and nuanced. Without dialogue that can be heard—though we see the actors talking—two layers of acting are in operation: the theatrically heightened performances of the actors playing actors playing characters in front of the camera, and the more realistic scenes in which the actors play actors interacting among themselves. But the latter sections still subtly suggest silent-film conventions.
Dujardin is a charismatic presence, his performance sensitive and appealing. Valentin's helplessness in the face of a world that has left him behind resonates. Bejo is splendid as an artist who's thrilled with her burgeoning career, wealth, and status but who cannot ignore the plight of her beloved mentor. Playing a bombastic producer, John Goodman is spot-on. So is James Cromwell as Valentin's loyal driver, whose stiff reserve belies genuine compassion. Miller is convincing as the beleaguered wife who understands what it's like to be redundant in a marriage.
Still, in the end, "The Artist" disappoints. Hazanavicius did not know how to resolve the scenario he set up: the future of a man who has grown outmoded in the workplace. Arguably, Hazanavicius' fantasy conclusion is in keeping with the feel-good finale of a Hollywood silent film, yet the closing scene misses the mark. It feels like a cop-out.

Genre: Drama
Written and directed by Michel Hazanavicius
Starring Jean Dujardin, Bérénice Bejo, John Goodman, Malcolm McDowell, James Cromwell, Penelope Ann Miller