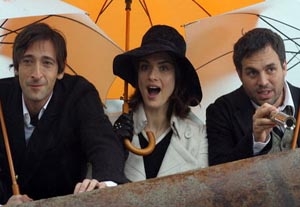 With screwball dialogue that crackles, quirky characters that linger in the memory, an elaborate sting that redefines the word "ingenious," a director who understands how to turn movie convention on its ear, and—first and foremost—brilliant and not-so-obvious casting decisions that pay off creatively (if, alas, not at the box office for this hookless marketing challenge),
The Brothers Bloom
is a blooming wonderful little flick. It is, in fact, the antidote for those already overwhelmed by the same-old same-old in the predictable summer movie pack.
Writer-director Rian Johnson turned film noirs upside down with his debut,
Brick
, and now does the same thing for the con-game genre. At first glance, these brothers look like they were cut out of the
Dirty Rotten Scoundrels/Sting
guide to writing screenplays but Johnson has a lot more on his mind than just the con.
Bloom
is ultimately about sibling revelry, the bonds that tie us together and tear us apart. It's hilarious, but it's heartbreaking. Surrender to the quirkiness, the weirdness, and the heart of it all and you will be justly rewarded.
Stephen (Mark Ruffalo) is a guy with ideas and dreams who, ever since their childhood spent in a series of foster homes, has created the stories of deception he and his brother Bloom (Adrien Brody) live out. Now at a crucial intersection in their lives, he convinces the reluctant Bloom to go for one more con, an elaborate plan that will end with a pot of gold on the other side of their rainbow. So Bloom immerses himself into the world of daffy New Jersey heiress, Penelope (Rachel Weisz), a loony character longing for adventure, which she definitely gets when she underwrites a million dollar "deal" and joins the brothers and their associate, a whacked-out Japanese explosives expert named Bang Bang (Rinko Kikuchi) as they hop an ocean liner headed to Europe. Dangerous encounters, unexpected turns, and a budding romance between Bloom and his "mark" complicate matters, making this con job one to remember.
Clearly inspired by high-water marks in this precious genre, Johnson has been smart enough to take what works in the classic sense and roll in a three-dimensional family tale of these two very individual and unique brothers on the last joint adventure of an unconventionally shared lifetime. And the cast, beginning with a revelatory performance from Weisz, does not let him down. This Oscar winner (for
The Constant Gardener
) shows surprising comedic chops that would proudly stand up next to anyone from Carole Lombard to Diane Keaton. She's enchanting in this role and delightfully cast opposite Brody, who underplays every scene with beguiling sweetness and restraint.
Ruffalo is provocative and full of bravado as the ever-resourceful Stephen, also the perfect balance to Brody. Kikuchi, who speaks little English in real life, is hysterically funny as Bang Bang, channeling the likes of silent funny people like Harpo Marx and Teller to express herself with almost no dialogue. As the brothers' mysterious mentor,
Maximilian Schell is properly evil, while Robbie Coltrane also brings a nice touch to his minor role as the Curator.
The Brothers Bloom
has been kicked around the Summit release schedule for the better part of a year and now looks like it's being tossed to the wolves in the midst of all the May blockbusters. But if you can find it, check it out before this brand of wildly inventive filmmaking becomes extinct.
Genre: Comedy/Drama
Written and directed by: Rian Johnson
Starring: Adrien Brody, Rachel Weisz, Mark Ruffalo, Rinko Kikuchi, Maximilian Schell, Robbie Coltrane.