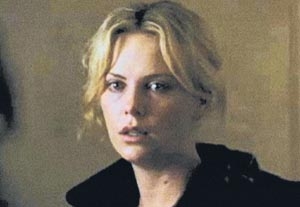 Screenwriter Guillermo Arriaga ("Babel," "21 Grams") makes his much-anticipated directorial debut with "The Burning Plain," starring Charlize Theron and Kim Basinger. It's a disturbing psychological mystery weaving four seemingly disparate stories.
The central figure is Sylvia (Theron), an upscale restaurant manager clearly haunted by a painful past. In Mexico, a motherless girl lives contentedly with her father until an accident shatters their peaceful existence. In a New Mexico border town, a married mother of four (Basinger) has a passionate affair with a married man. Their teenage children find themselves drawn together by a tragedy. Moving backward and forward in time, "The Burning Plain" explores guilt, repentance, and culture clash as the plot threads merge and Sylvia's horrible secret is revealed. It's a darkly evocative film—and its not uninteresting narrative structure underscores the intrigue—but it's also at times tedious. Its long silences are not meaningful, just portentous. The film is less than two hours long, yet it feels much longer.
The performers cannot be faulted. Theron's Sylvia is a multilayered figure—on the surface cool and poised, but underneath a caldron of warring emotions. She is sexually promiscuous yet wholly detached, self-hating yet nurturing, a woman in flight yet emotionally paralyzed. Basinger is also impressive as a working-class woman riddled with guilt. Her inner struggle is palpable: To keep her life together, she must end the affair, but she can't. One of the most striking performances is by relative newcomer Jennifer Lawrence, as Basinger's teenage daughter, whose actions are paradoxically guileless and evil. Danny Pino is also strong as the man who trails Sylvia. He is by turns sinister and comic, yet in the end he's neither.
Arriaga elicits fine performances and employs the wonderful director of photography Robert Elswitt, whose vivid shots of bleak towns and arid landscapes echo the characters' inner lives. 
Genre: Drama
Written and directed by: Guillermo Arriaga
Starring: Charlize Theron, Kim Basinger, J.D. Pardo, Jennifer Lawrence, Danny Pino