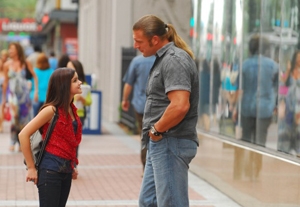 Nothing is wrong with a Grade B "family" movie if a little originality or a few new insights are thrown in. A mildly interesting character or scene wouldn't hurt. But in "The Chaperone"—a tedious film about forgiveness, redemption, and family dynamics —there is none of these.
It tells the story of Ray Bradstone (Paul "Triple H" Levesque), "the best wheel man in the business," who has recently gotten out of the slammer, having served a seven-year sentence. Determined to go straight and put things right with his ex-wife (Annabeth Gish) and especially his estranged pubescent daughter Sally (Ariel Winter), he charges back into their lives. He is not welcome. Despite good intentions, he is unable to land a legitimate job and rejoins his thug buddies (Kevin Corrigan, Kevin Rankin) to rob a bank. At the last minute he changes his mind and escapes with his daughter and her class on a school bus trip, thus becoming the chaperone. Chaos ensues as the villains and cops pursue him, believing he has absconded with the stolen money, while he tries to establish a rapport with his daughter, who doesn't want him near her. In the end, justice, maturity, and mutual communication prevail.
Levesque, who is a World Wrestling Entertainment star and looks it—indeed, he is right out of Central Casting—is acceptable enough as the big-hearted lug; so is Gish as Ray's beleaguered ex-wife. Corrigan and Rankin are somewhat more spirited as clown hooligans, as is Yeardley Smith tackling a genial, kooky teacher. But the most convincing actor here is Winter as the conflicted daughter, who is furious with her father yet clearly struggling with her rage. On some level she loves him, and the emotional stakes are high.
Still, Stephen Herek's direction feels sluggish—not that sharper pacing could salvage S.J. Roth's ho-hum script. The big puzzle is why this film was made at all. In all fairness the movie has one major virtue: It's not pretentious.

Directed by: Stephen Herek

Screenplay by: S.J. Roth

Starring: Paul "Triple H" Levesque, Ariel Winter, Kevin Corrigan, Jose Zuniga, Yeardley Smith, Kevin Rankin, Enrico Colantoni.