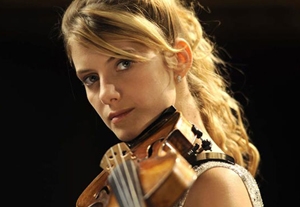 Most foreign films imported today have a certain cache, a seriousness, a pedigree of importance. It's nice to see one that is just plain good old-fashioned entertainment like Radu Milhaileanu's irresistible "The Concert," a tale of a fake Russian orchestra that manages to turn up in Paris for a major engagement without the real Russian musicians finding out—at least until showtime. A wonderful comedy with big laughs, a big heart, and great music, "The Concert" is also blessed to have a terrific international cast headed by veteran Russian actor Aleksei Guskov, Mélanie Laurent of "Inglourious Basterds," and the great French star Miou Miou, among a raft of others. 
The plot is basic screwball high jinks in one regard and earnest human comedy in the other. Andrei Filipov (Guskov) is a prodigious musician who at one time in his life was the conductor of the Bolshoi Orchestra in Russia but was fired in his prime by Communist pressures after he refused their order to rid the Bolshoi of all its Jewish players, among them his pal and confidante Sacha Grossman (Dmitri Nazarov). Now, decades later at age 50, Andrei is working again at the Bolshoi as a janitor while spending most nights immersed in vodka and severe depression, despite the loving support of his wife Irina (a terrific Anna Kamenkova Pavlova). But after he intercepts a fax inviting the Bolshoi to take on a last-minute Paris engagement in two weeks, Andrei decides on a whim to gather his old motley crew of players and pass them off as the real thing. The aforementioned human element comes into play when he manages to entice world-renowned violinist Anne-Marie Jacquet (Laurent) to join them as a guest star. It turns out to be much more than just a one-night gig for her when secrets from both their pasts are eventually revealed.
Director and co-writer Mihaileanu plays the comedic aspects of this wild ride for all its worth and really lays on the thick Russian stereotypes throughout. What could have been annoying is actually charming as this ragtag would-be Bolshoi invades Paris for a concert never to be forgotten. The performance-driven film is top-lined brilliantly by Guskov, who somehow gives a level of credibility and—most important—possibility to this crazy scheme. As his best friend and cohort, Nazarov has choice moments. Miou Miou is also fine as Jacquet's overly protective agent, while Laurent is genuinely impressive in her dramatic scenes and convincing as a world-class violin prodigy. Reportedly she studied for three months on the violin to pull off the film's final concert scene, in which she shines. It is extraordinary work from an increasingly impressive actor.
If the film were just a straight comedy, it would be winning, but with glorious music weaved in and out, this is one summer concert you don't want to miss.

Genre:  Comedy
Written by: Radu Mihaileanu, Alain-Michel Blanc, Matthew Robbins
Directed by: Radu Mihaileanu
Starring: Aleksei Guskov, Dmitri Nazarov, Mélanie Laurent, Miou Miou, François Berléand.