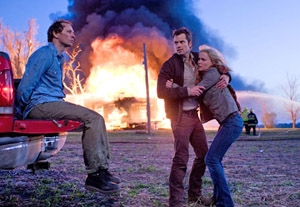 A lesser-known entry in the George A. Romero living dead oeuvre, 1973's "The Crazies" has been given the remake treatment to surprisingly satisfying effect.
Part zombie movie, part apocalyptic bioterror, part military conspiracy thriller, the refit hybrid doesn't stint on the visceral kicks demanded by contemporary audiences while remaining reasonably true to those Romero roots.
Given its menacing print marketing campaign (that floor-scraping pitchfork) and well-timed drop into an unsaturated marketplace, genre fans could really go nuts for this Overture Films release.
Although the new version is more visually expansive than Romero's ultralow-budget original, director Breck Eisner retains its minimalist spirit in the depiction a rural Midwestern town thrown into chaos after a deadly toxin leaches into its water supply.
With the inhabitants of sleepy Ogden Marsh systematically turning into grisly, brain-damaged killers, Sheriff David Dutton (a convincing Timothy Olyphant) and his physician-wife, Judy (Radha Mitchell), manage to remain among the dwindling ranks of the unaffected.
But just as they discover the top-secret source of the contaminant, the military, in a bid to clean up its mess, quarantines the town and herds its denizens into a high-security holding camp.
Although the original, which also was released as "Code Name: Trixie," was very much a product of the Vietnam era, the plot (which also was deviously co-opted by "The Simpsons Movie") holds up sufficiently in the update by Scott Kosar ("The Texas Chainsaw Massacre" redo) and Ray Wright.
For Eisner, it's a far more focused effort than his first feature, 2005's scattered "Sahara."
He exhibits a real atmospheric feel for the genre, and those carefully composed set pieces -- especially one set in a seemingly abandoned automated car wash -- have been calibrated for maximum intensity.
His everyman protagonists, also including Joe Anderson ("Across the Universe") as Olyphant's no-nonsense deputy and Danielle Panabaker as Mitchell's office assistant, keep it real, and cinematographer Maxime Alexandre ("High Tension") and production designer Andrew Menzies ("Avatar") keep it evocative.
Opens: Friday, Feb. 26 (Overture Films)
Production: Participant Media, Imagenation
Cast: Timothy Olyphant, Radha Mitchell, Joe Anderson
Director: Breck Eisner
Screenwriters: Scott Kosar, Ray Wright
Executive producers: George A. Romero, Jeff Skoll, Jonathan King
Producers: Michael Aguilar, Dean Georgaris, Rob Cowan
Director of photography: Maxime Alexandre
Production designer: Andrew Menzies
Music: Mark Isham
Costume designer: George L. Little
Editor: Billy Fox
Rated R, 101 minutes
– Nielsen Business Media