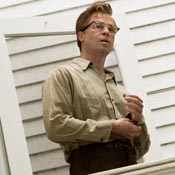 F. Scott Fitzgerald never had much success when he tried to parlay his literary cache into a Hollywood screenwriting career, but with Eric Roth's (Forrest Gump) superb adaptation of the author's 1922 short story, The Curious Case of Benjamin Button, Fitzgerald may have his highest-profile movie hit ever. Actually, other than the title and the premise about a man who ages backward, Roth's script is nearly an original that serves as a haunting meditation of what we do between birth and death, even -- as in the case of Button -- when we happen to be going in the opposite direction.
The story is set in motion when, during Hurricane Katrina, a hospitalized old woman named Daisy (Cate Blanchett) shares with her daughter (Julia Ormond) a deathbed tale of a man she once knew who was born at the equivalent of an 84-year-old. The story then shifts mostly to flashbacks as it tells the story of Benjamin Button, who, as a baby, is left on the doorstep of a New Orleans retirement home and brought up by Queenie (Taraji P. Henson), the kindly woman who runs it. From the end of World War I in 1918 through the beginning of the 21st century, we watch as Benjamin (Brad Pitt) forges a friendship with Daisy, whom he meets as a young girl; goes off to work on a ship run by the colorful Captain Mike (Jared Harris); gets romantically involved with an "older" woman (Tilda Swinton); finds Daisy again at midlife, when their ages mesh for a while; and then grows younger until the film's unforgettable conclusion and final images.
Benjamin Button is a movie that could not have been made without the technological advancements in the film industry in the last decade. Many filmmakers have toyed with it, but David Fincher (Se7en, Zodiac, Fight Club) found a way to do it using one actor for most of Benjamin's unusual life. Even the baby with the look of an 80-year-old has Pitt's eyes; in early scenes his face is superimposed onto various bodies. Only the scenes near the end, in which Benjamin appears as a child, are done without Pitt. One of the most startling sequences is when Benjamin turns up to see his "old" friend Daisy, in her 60s or so, and he's now a teenager. Pitt seems to have stopped time in this scene. It's remarkable.
Sometimes the finest acting is the most subtle, and that's what Pitt does here, recalling the best work of greats like Paul Newman, using his eyes to tell the story. Blanchett is equally fine, aging into the 80s and excelling at each point in Daisy's life. Swinton is memorable in her small role as an early love of Benjamin's.
Jason Flemyng is also fine as the senior Button who abandoned his son but reestablishes contact as years pass, while Harris gets to chew the scenery as the boat captain who hires Benjamin. A standout is Henson (Hustle & Flow) as the warm and wonderful Queenie, the one person who would not turn her back on the "different" baby and has a profound effect on him throughout his life. Ormond in the present-day sequences has nice scenes with Blanchett's elderly Daisy.
At two hours and 47 minutes, the film has the feel of an intimate epic. It's mesmerizing and unforgettable, a tone poem that leaves us wondering even more about the mysteries of life.
Genre: Drama
Written by: Eric Roth
Directed by: David Fincher
Starring: Brad Pitt, Cate Blanchett, Taraji P. Henson, Tilda Swinton, Jared Harris, Julia Ormond, Jason Flemyng