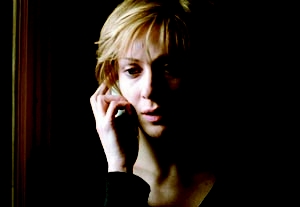 If a Hitchcockian psychological thriller peppered with elements from several different films is what you are looking for, then look no further than the compelling Italian drama "The Double Hour."
This tale keeps your attention even if its mysteries are frustrating and never quite unlocked. There are almost too many winding roads this thing takes, and its dreamlike states are often at odds with the narrative, but fortunately it has a pair of actors who are so extraordinary we will follow them anywhere. In fact, Kseniya Rappoport, who plays Sonia, and Filippo Timi, who portrays Guido, won acting awards at the Venice Film Festival—and deservedly so.
The story, as in many of these genre films, seems simple at first but quickly weaves a tangled web. Slovenian Sonia is a somewhat desperate romantic stuck in the speed-dating world. At one of her sessions, she lucks into meeting Guido, a security expert who takes her back to the estate where he is working. Tragedy intervenes when both are mugged and shot. Guido dies. We think.
But in the long midsection we are never quite sure what is going on, or even if Sonia is in some sort of dream. It seems her life has taken wild turns. Director Giuseppe Capotondi revels in cinematic trickery, clever camera setups, and characters who aren't always as they seem. There are many pieces to this puzzle, and it might take a safecracker to figure out all the combinations before we finally hit the denouement.
"The Double Hour," which intriguingly refers to when the hour and minute coincide on a watch, likes to wear confusion and dueling scenarios on its sleeve. We are never left in the lurch too long, though, thanks to the enchanting Rappoport, who navigates this complex turn of events with seeming ease and skill. Her attraction to Timi is always believable and passionate, and it is that initial coupling that keeps us glued to our seats even if events tear it apart.
Known for her sensational work in the similarly complicated psychodrama "The Other Woman," Rappoport digs deep into this woman and lets us in slowly but methodically. Timi is equally terrific. Together they take this expertly observed thriller to new levels. Clearly the psychological romantic thriller is something Hitchcock mastered, but Capotondi breathes new life into it. The supporting characters are not as significant as the newly minted lovers who frame the story, but Antonia Truppo remains a standout as a chatty friend to Sonia.
First seen internationally at the 2009 Toronto Film Festival, "The Double Hour" has taken its own sweet time in finally sewing up American distribution, perhaps because its themes are not so easily digestible to domestic audiences. Nevertheless, given half a chance, this crafty suspenser will leave you satisfied and eager to see it again—just to find out what you missed the first time around.
Genre: Drama
Written by: Alessandro Fabbri, Ludovica Rampoldi, Stefano Sardo
Directed by: Giuseppe Capotondi
Starring: Kseniya Rappoport, Filippo Timi, Antonia Truppo, Gaetano Bruno, Fausto Russo Alesi