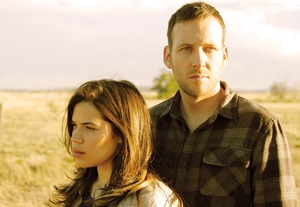 Ryan Piers Williams' film "The Dry Land" brings to light the searing plight of the American soldier, not in the throes of action but back home after service to country. Though the horrors of combat might be over for Iraq War veteran James (Ryan O'Nan), he has not left them behind, a fact that jeopardizes his relationships with those he most wanted to get back to: his wife, Sarah (America Ferrera), and his best friend, Michael (Jason Ritter). Looking for the answers that will help him accept and overcome the atrocities he faced, James travels with Army friend Raymond (Wilmer Valderrama) to visit a hospitalized comrade. However, James doesn't find the resolution he was hoping for, and it is within himself that he must search to find the strength to return to civilian life.
While the film opens slowly, the emotional core quickly develops as the actors offer insightful and stirring performances that take what could be flat and trite melodrama and elevate the story to a compelling examination of the horrors of war beyond the battlefield. Ritter, Valderrama, and Melissa Leo capably portray their supporting characters as believable facets of James' life. Leo, in particular, captures the bitter yet loving hardness of James' terminally ill mother in a way that is both painfully complex and lovingly familiar.
The best performances, however, belong to O'Nan and Ferrera. The relationship between James and Sarah lies at the heart of the film; it's the one thing James values most, yet endangers. "Ugly Betty" is far from one's mind as the everyday Midwestern girl Sarah confronts the unexpected trials of welcoming back the man she loves. Ferrera's performance is strong, multilayered, and heart-wrenchingly authentic. It is a suiting match, then, for O'Nan's work. He gives deeply troubled James his full due, and the result is a character that, despite his often-difficult-to-sympathize-with actions, is wholly sympathetic. He delves into the psyche of a man in ruins and pulls from the rubble a portrayal that is pure, real, and gripping.
Though the film is not perfect, it is well-crafted, and the acting is a strong point. The character-driven narrative is made satisfying by the actors' capable work with challenging subject matter. The content is heavy and at times difficult to watch, but the result is a film that stays with the viewer. "The Dry Land" is rich and anything but dry—a hard-hitting film that reminds us that the call of duty has very serious echoes.
Genre: Drama. Written and directed by: Ryan Piers Williams. Starring: Ryan O'Nan, America Ferrera, Wilmer Valderrama.