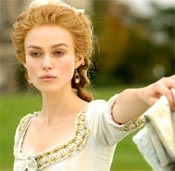 In her best screen outing to date, Keira Knightley makes a regal impression as the Duchess of Devonshire, Georgiana Spencer, who it turns out had more than just a family connection with her direct descendant Princess Diana. The duchess was England's fashion icon and beloved by the country for her feistiness and glamour, eventually helping to bring major change to the Brits as leader of the progressive Whig Party. Her personal life was a mess, though, as she couldn't seem to garner the affection and love of the man she desired most: her own husband, the Duke (Ralph Fiennes), who cheated on her with her best friend, Bess Foster (Hayley Atwell), to have the son Georgiana couldn't deliver. With Bess moving in for a very unconventional kind of living arrangement, Georgiana tries to find romantic happiness on her own with the dashing abolitionist Charles Grey (Dominic Cooper), a liaison that led to controversy, heartbreak, and her ultimate place in history.
The Duchess is based on Amanda Foreman's biography Georgiana, Duchess of Devonshire, and director Saul Dibb has collaborated on a riveting screenplay with Jeffrey Hatcher and Anders Thomas Jensen that provides the role of a lifetime for Knightley. With all the parallels to the Diana years, audiences will be glued to the screen for a compelling tale that has a lot of contemporary resonance, even though the fates of the two enormously popular and daring royals were decided 200 years apart.
Knightley manages to get the audience on her side even though the Duchess is not always the most sympathetic of characters. A scene in which she finally confronts the Duke about his betrayals allows her to display the kind of raw emotion she was denied in more-proper roles like her Oscar-nominated turn in Pride & Prejudice and last year's Atonement. This is a rich character that is clearly catnip for any actor. She gets to be funny, strong, gorgeous, and a total fashion plate in addition to becoming victim and adulteress — and ultimately a woman of power and dignity.
Most will compare this, of course, to the more recent royal soap opera, and it is a bit eerie that the Spencers of that time could so uncannily mirror the Spencers of the late 20th century. Fiennes as the Prince Charles-like Duke has his finest hour onscreen in a long time as a man determined to produce a male heir no matter the emotional toll it takes on his loveless marriage. Scenes between Knightley and Fiennes are beautifully written and played. Acting doesn't get much better. The supporting cast is well-chosen. Cooper perfectly embodies the ambitious politician who provides temptations of the flesh at just the right moment in Georgiana's life. Their big love scene is genuinely erotic. Atwell (Brideshead Revisited) does a nice job as the friend and romantic competitor who turns life upside down for Georgiana, and Charlotte Rampling is wonderfully ironic and understated as the Duchess' mother, doling out wise advice to her daughter.
Genre: Period drama.
Written by: Saul Dibb, Anders Thomas Jensen, Jeffrey Hatcher.
Directed by: Saul Dibb.
Starring: Keira Knightley, Ralph Fiennes, Dominic Cooper, Hayley Atwell, Charlotte Rampling