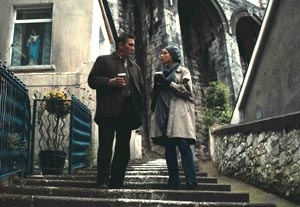 What if the living haunted us like the dead do? That's the central premise of Irish writer-director Conor McPherson's new film "The Eclipse." Best known as the Tony-nominated playwright of "Shining City" and "The Seafarer," McPherson is no stranger to stories of the supernatural. His onstage characters include a London theater critic who discovers a cabal of vampires ("St. Nicholas"), and a group of old friends who, exchanging ghost stories, are confronted by a truly terrifying tale ("The Weir").
For his third feature film, McPherson tells the story of Michael Farr (Ciarán Hinds, perhaps most widely known as Caesar in HBO's "Rome"), a widowed teacher and father of two young children (Eanna Hardwicke, Hannah Lynch) who is troubled by nightly apparitions. In a twist, Michael sees his elderly father-in-law (Jim Norton) as if he were raised from the dead—except that the man is very much alive in a nearby nursing home.  Meanwhile, at a local literary festival, Michael meets novelist Lena Morelle (Iben Hjejle from "High Fidelity"), and they strike up a friendship. At the same festival, Lena's former lover, the egocentric Nicholas Holden (Aidan Quinn), appears eager to rekindle their romance, even offering to leave his wife. Though Lena is drawn in to help Michael, the visions become more violent, which leads to a surprising conclusion.
The film is based in part on Billy Roche's "Tales From Rainwater Pond," which contained only the story of Michael, Lena, and Nicholas. McPherson revised the story, adding the supernatural elements of a deceased wife and a haunting father-in-law. While it's an interesting idea, the two stories make an uneasy fit. The film swings from touching love story to horror film clichés—complete with a crash of screeching violins as a bloody hand grabs Michael's leg, sending popcorn flying in the theater—as if McPherson can't make up his mind which way to go. Together they create a jarring, and unsatisfying, effect.
McPherson elicits a restrained romantic chemistry between Hinds and Hjejle; their relationship works and is the best part of the film. Quinn is hilarious as the boorish American novelist, a pleasant departure from his more earnest roles.
McPherson and director of photography Ivan McCollough do a beautiful job showing a glimpse of Ireland that outsiders rarely see. 
Genre: Drama
Written by: Conor McPherson and Billy Roche
Directed by: Conor McPherson
Starring: Ciarán Hinds, Iben Hjejle, Aidan Quinn, Jim Norton, Eanna Hardwicke, Hannah Lynch