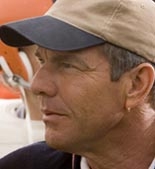 College-football fans will rejoice at the sheer amount of game action director Gary Fleder gets into just over two hours in this inspirational, if by-the-numbers, biopic of the life of Ernie Davis, the first African American to win the Heisman Trophy, the holy grail of all college-ball awards.
The film traces Davis' life from his awkward beginnings as a stuttering young Southern boy (played by Justin Martin) brought up by his grandfather (Charles S. Dutton) through his acceptance at Syracuse University (at which point Davis is played by Rob Brown) and elevation as a freshman to the varsity team by coach Ben Schwartzwalder (Dennis Quaid), and finally to the ultimate tragedy he experienced as he was about to turn pro. The Express doesn't let a sports-movie cliché go unturned. But who cares? These personal tales rarely wear out their welcome, especially when they are in the hands of talented filmmakers such as Fleder and screenwriter Charles Leavitt.
The uniqueness of a young black man succeeding in college ball even as recently as the 1960s is what gives this film a perspective worth revisiting. Racism was rampant in the stands, in the locker room, and in the faces of opposing players. It's the against-all-odds aspects on display here that keep us involved, along with the cruel twists of fate life can have in store even at the height of success. But if you're not a fan of the game, beware: There is a lot of gridiron action; the director seems obsessed with covering every possible angle on the key games in Davis' career.
Brown scores mightily in the title role. He's tough, talented, and empathetic as Davis, a player of rare ability and a human being with grit and grace in the face of victory and adversity. As his friend Jack Buckley, Omar Benson Miller confirms the promise he showed recently in Miracle at St. Anna and projects an appealing blend of humor and loyalty. Quaid is better than he has been in some time, hiding behind a cap and glasses and fully embodying the wise coach who helped launch Davis into the spotlight. As racist teammate Bob Lundy, Geoff Stults is a bit one-dimensional, but he doesn't have a lot to work with. Dutton delivers his usual pro work as Davis' dedicated grandfather, and Martin perfectly captures the young, awkward years of Ernie.
The main drawback to all of this is the strong sense of déjà vu we feel watching the movie, even though this is the first time Davis' story has been brought to the screen. The film is engrossing and certainly inspiring, but with a little more vision and originality it could have been an awards contender, rather than just another entry into the annals of the sports-movie genre.
Genre: Sports Drama
Directed by: Gary Fleder
Written by: Charles Leavitt
Starring: Rob Brown, Dennis Quaid, Omar Benson Miller, Charles S. Dutton, Justin Martin, Darrin Dewitt Henson, Geoff Stults