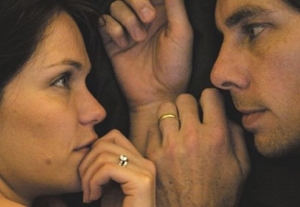 The premise of this independent film is that one night off in a long-term marriage would get the sparks rolling again. If you had a "freebie" to do whatever you wanted and be with whomever you could, would you appreciate your partner more or could it cause a fracture that might careen out of control? This is essentially the idea of actor Katie Aselton's very bold writing and directing debut "The Freebie," in which she and Dax Shepard star as a young couple married seven years who get that itch, that unmistakable moment when they realize their marriage no longer has the sexual zest it once did, that they may be taking each other for granted, or that they just long for something fresh to get their juices as a couple rolling again. Making a pact to reinvent their relationship, they agree to a one-night-only, no-questions-asked sabbatical in which they are completely free to do whatever they want in a spirit of complete trust. Where the two take this and the information they fail to share with each other is where the film travels in the second half of its short but sweet 80-minute running time.
Aselton proves to be a shrewd observer of relationships, and she crafts a provocative tale of a fun-loving couple who have lost their way. This thoroughly indie movie is reminiscent of another similar indie comedy this year, "Breaking Upwards," in which a perfectly nice couple decide to "break up" to save themselves from a fate worse than complacency. In both cases, temptation gets in the way, mucking things up and causing friction that may have been bubbling under the surface but now bursts out in the open.
"The Freebie" is a wonderful showcase for its actors. Aselton and Shepard create instant chemistry; this couple feels real and their bond strong, despite a need for something, anything, else to lift them out of this rut. Audiences can identify with Aselton's Annie and her need to question where they are and where they might go. Shepard is a revelation for those who know this comic only from lighter roles like the insipid "Employee of the Month." Here he is given the chance to create a fully dimensional man, seemingly happy and unaware he may not be. The long analytical scenes that make up the film's first half are heavy with the familiar dialogue we associate with lived-in marriages, and both actors are up to the task of delivering these lines in believable, naturalistic fashion. The ultimate compliment to the film's talented writer-director-star is that she has created a film, shot in just 11 days, that feels completely improvised, without a false note in sight.

Genre: Drama. Written and directed by: Katie Aselton. Starring: Katie Aselton, Dax Shepard.