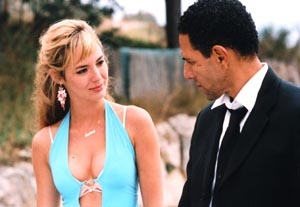 Anne Fontaine's
The Girl From Monaco
is not as tragic as
Damage
, as farcical as
Blame It on Rio
, or as blackly comic as Stanley Kubrick's
Lolita
. Yet the French thriller brings interesting twists—and a feather-light sense of humor—to the worn-out genre of films in which stiff middle-aged men become obsessed with flighty young women.
Famed Paris lawyer Bertrand Beauvois (Fabrice Luchini) flies to Monaco to defend an accused murderer (Stéphane Audran). In response to threats, the accused's son (Gilles Cohen) hires a bodyguard, Christophe (Roschdy Zem), to protect Bertrand. At first Bertrand bristles at idea of a person shadowing his every move. He slowly comes to rely on Christophe and his cool professionalism.
Bertrand meets the statuesque Audrey Varela (Louise Bourgoin), a local TV weather girl. The impulsive 20-something sees Bertrand as a means to forward her career. After a quick fling, Audrey convinces Bertrand to let her do a documentary about him. At the same time, she draws him into her club-hopping lifestyle, for which the older man is comically ill-suited. Christophe does his best to save Bertrand from himself. Only when Bertrand realizes what he's become does he finally turn to Christophe for help.
Bourgoin and Zem were nominated for Césars (the French equivalent of the Academy Awards) for their roles in
The Girl From Monaco
, and they are terrific—especially in the way they offset each other: Bourgoin plays the outgoing Audrey with a fearless zest that matches Zem's internalized portrayal of the conflicted Christophe.
However, the joy of this film is watching veteran actor Luchini navigate Bertrand's transitions from complete command in the courtroom, deftly questioning hostile witnesses, to the complete discomfort he exudes when he's with Audrey. On his face he displays a Buster Keaton–like quality as he tries to show calmness despite being panic-stricken.
Genre: Comic Thriller, French with English subtitles
Written by: Anne Fontaine and Benoît Graffin
Directed by: Anne Fontaine
Starring: Fabrice Luchini, Roschdy Zem, Louise Bourgoin, Stéphane Audran, Gilles Cohen