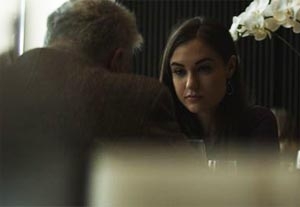 Equating capitalism with prostitution is an old gambit, but one that gets sharp, fresh play in Steven Soderbergh's
The Girlfriend Experience
. Set (and shot) in New York City in the last part of 2008—as the nation was electing a new president and coming to grips with the reality of a deep recession—the film is a sardonic meditation on getting and spending. It will inevitably be a pop-culture conversation piece, much like Soderbergh's debut 1989 film on sexual mores,
Sex, Lies, and Videotape
.
Marketing strategy is key for Manhattan couple Chris (Chris Santos) and Chelsea, aka Christine (Sasha Grey); they both hold jobs in which selling oneself figures big. He is a personal trainer whose charm matters as much as his knowledge of abs and glutes. She is a high-priced escort who, like a New Age geisha or courtesan, is as apt to spend an hour commiserating with a man about his stock portfolio as exploring new positions in the boudoir. Chelsea is a "girlfriend"—as long as the meter is running, anyway.
During the first part of the film, we don't see this pair of hustlers together much. They are off with clients, trying—while the economy implodes around them— to drum up new work and create ancillary careers for themselves. He's apparently attempting to push a line of sports garments. She's meeting with consultants, looking to augment her Internet following. As a conscientious businesswoman, she even keeps an e-journal recording the particulars of each assignation, meticulously noting which outfit she wore and what conversations and sex acts transpired.
Only in the latter part of the film do we see how the skewed relationship between these two takes its toll. We learn that they have been together for a year and a half and that they have an understanding that she will not travel out of town with clients. Other than that, he has no problem with her profession. In one scene, he plays cheerleader for her after a bad day, telling her, "You are the best at everything you do!" The absurdity of the scene would seem to elicit much laughter; but, this being 2009, it is instead tinged with a creepy normalcy. Of course, Chris and Chelsea's pairing doesn't exactly have "happily ever after" stamped on it. And no one is crying any tears for them. Still, finding out how it will disintegrate keeps the audience absorbed.
The story is told in a jumbled chronology that is suited to the scattered life the characters lead. The actors build their scenes in an improvisational fashion. When they stumble or step on one another's lines, the awkwardness is not edited out of the cut.
Sodebergh made headlines when he cast adult film star Grey as Chelsea. Neither she nor Santos has the kind of chops that will land jobs playing in Restoration comedy at Lincoln Center. For these particular characters, though, they get the job done. Chelsea is supposed to have a "flat affect" anyway, and Grey manages that in spades.
The supporting roles are filled with largely unfamiliar faces. Generally they have (or adopt) an untrained-actor mode appropriate for the ultra-naturalistic genre. One standout is film writer Glenn Kenny as an old-school porno putz who doesn't quite fit into the 21st-century sex-worker Zeitgeist, and who manages to give Chelsea considerable grief.
Genre: Drama. Written by: Brian Koppelman and David Levien. Directed by: Steven Soderbergh. Starring: Sasha Grey, Chris Santos, Glenn Kenny.
This week's online reviews include
Easy Virtue
, based on the Noël Coward play, and the Oscar-winning foreign film
Departures
.
To read an exclusive interview with Sasha Grey click here:
Porn Goes Mainstream