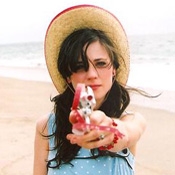 Every once in a while, indie film meets indie rock in a tragically hip combo that aspires to become the next indie darling. Martin Hynes's The Go-Getter is equal parts road movie and mix tape, boasting a cast of indie regulars including Lou Taylor Pucci (Thumbsucker, The Chumscrubber, Fast Food Nation), Zooey Deschanel (All the Real Girls, The Good Girl, Almost Famous), and Jena Malone (Into the Wild, Saved, Donnie Darko). All three actors bring their familiar charm and hipster cred to a film that falls just short of becoming resonant to a new generation. Throughout the film, the director succeeds in keeping each scene consistent in tone with a playful, lived-in, vintage vibe.
Pucci stars as an innocent 19-year-old named Mercer White who, eight months after the death of his mother, steals a car and embarks on a road trip to find his estranged older half-brother. The car he steals belongs to Kate (Deschanel) who, rather than turning in the young thief, decides (however unlikely) to lend it to him in exchange for some cell phone (also hers) conversations during his journey. Their road chats -- about favorite ice cream flavors, squirrels, and how "if you don't watch enough TV you make people nervous" -- prove to be the highlights of the film.
On his way to find his half-brother, Mercer encounters various free-thinking, thoughtful, and downright bizarre people that help shape White for better or worse. Cameos by a hippie Judy Greer (known only as "Better Than Toast" from her t-shirt); Maura Tierney as a pet-store owner/community-service bandleader; and Bill Duke as a liquor salesman who teaches White about self-defense provide some of the more interesting moments in the film. White's vivid imagination peaks during a "Madison" dance sequence with Deschanel and Malone -- an obscure homage to Jean-Luc Godard's Bande à part.
Malone goes a different direction than we've previously seen her, playing a seductive tart and aspiring flight attendant named Joely. Pucci is just as fresh-faced as he was in Thumbsucker, discovering sex, drugs, closure, and, finally, love. His vulnerability and sincerity anchor a movie that takes place all over the map (Oregon, Nevada, California, and Baja, Mexico). But it is Deschanel, with her quirky wisdom and silly nonsequiturs, who truly wins over the audience. Fun fact: Not only do Pucci and Deschanel sing on the film's soundtrack alongside artists like Elliot Smith, The Black Keys, and Belle Perez, but Deschanel teamed up with composer M. Ward to form a band called She & Him once the film wrapped.
Genre: Comedy/Drama
Written and directed by: Martin Hynes
Starring: Lou Taylor Pucci, Zooey Deschanel, Jena Malone