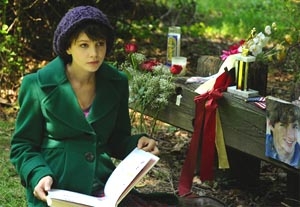 "The Greatest" is undoubtedly well-done and engaging to watch. But there are no new insights here, just recycled bromides right out of Pop Psychology 101 on the grieving process. It's "Juno" meets "Ordinary People" as seen through the eyes of Dr. Phil.
"The Greatest" recounts the lives of Allen and Grace Brewer (Pierce Brosnan and Susan Sarandon), an upper-middle-class couple whose already troubled marriage begins to spiral out of control when their 18-year-old son Bennett (Aaron Johnson) is killed in a car crash.
Matters become even more complicated when Rose (Carey Mulligan), a classmate of Bennett's, surfaces a few months later, proclaiming she is carrying Bennett's child and plans to keep the baby. Feeling compassion and obligation for Rose, Allen invites her to move in with them.
Meanwhile, Grace is in a state of total emotional disarray and obsessively thinking about her late son, while the stoically repressed Allen refuses to deal with his son's death and changes the subject every time Bennett's name comes up. The Brewer's younger son, the drugged-up and self-absorbed Ryan (Johnny Simmons), has spent a lifetime profoundly jealous of his big brother and agonizes because he never had a chance to "say goodbye" to Bennett. Entanglements ensue, festering recriminations are aired, and everyone grieves and shares. Closure is achieved and life is affirmed.
As fine an actor as Sarandon is, she cannot make Grace's overwrought actions fully believable. Among these: waiting at the bedside of the comatose driver who accidentally killed her son in the desperate hope he will come to and describe to her every second of her son's final moments.
Still, one has to give Sarandon credit for appearing on camera unkempt, frowzy, and stripped of glamour. Brosnan has an altogether more plausible role and is totally convincing as a man who truly cares about his family, wants his marriage to survive, and cannot come to terms with his son's death.
One of his most striking scenes occurs at the beach as he watches his younger son momentarily disappearing beneath the waves. Brosnan's tormented screams, demanding that his son immediately come out of the water, powerfully reveals several emotions, most pointedly how terrified he is of losing his second son.
Though she certainly doesn't have as multilayered a role as she did in "An Education," Mulligan is excellent as a good-hearted and intelligent young woman who has made a difficult decision, and Mulligan has mastered a flawless American accent. Simmons does a nice job as the beleaguered kid brother who is trying to kick a drug habit and overcome feelings of guilt about his dead brother.
Feste clearly knows how to direct actors, but regrettably her screenplay does little more than spew forth received wisdom. Wouldn't it be refreshing just once to hear that not everybody does better "sharing" and that for some "closure" can never be achieved?
Genre: Drama
Written and directed by: Shana Feste
Starring: Pierce Brosnan, Susan Sarandon, Carey Mulligan, Aaron Johnson, Johnny Simmons