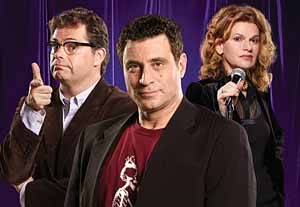 Comedy is not like sausage. If one enjoys sausage, it is said, it is best not to see how it is made. In "The Green Room with Paul Provenza," the comedian/executive producer demonstrates that understanding how comedy is made can be as funny as the comedy itself.
For a half-hour each week, the cameras roll at the Vanguard in Hollywood as Provenza and four other comedians, seated in a sort of horseshoe shape, swap stories and theories based on their successful careers. Depending on the guests that week, political issues also might form a large chunk of the conversation.
This is as close as most of us will ever get to seeing what happens when comedians hang out with each other. The show is taped before a small, intimate and appreciative audience that, if anything, only encourages guests to express opinions that might be censored or self-censored elsewhere.
As Roseanne Barr proves during the second episode, no political remarks are too outrageous. As Andy Dick proves in the third week, no jokes are too sick. But then, Provenza warns viewers at the outset of each episode that admission into this Green Room is not for those who are easily offended.
The premiere features Drew Carey, Larry Miller, Eddie Izzard and Reginald D. Hunter. Collectively, they assess how humor is different in the U.K., easy ways to get the audience back on your side and how to segue from one topic to another. They reminisce about working on cruise ships and opening for famous divas.
Occasionally, they even pay homage to other great comics. Provenza recalled advice he got from Bill Cosby: "You don't always have to be funny onstage. You just need to be interesting."
Hunter observed that truly great comedians can ruin an entire generation of comics who inevitably aspire to be like their idol.
"Richard Pryor ruined three or four generations of comedians," he asserted.
At the heart of it all are the anecdotes. Miller, who once opened for K.C. and the Sunshine Band, recalls distracting sound checks made during his act. Also, the time he was brought onstage to entertain the Iowa State Police Assn. immediately following a tearful tribute to a fallen colleague.
Each new group of comedians has its own dynamic. The only consistent element is Provenza, who practically instinctively prevents any conversation dead spots from forming.
Airdate: 10:30-11 p.m. Thursday, June 10 (Showtime)
Production: A Susquehanna Hat production in association with Showtime Networks
Host: Paul Provenza
---
COPYRIGHT: (c) Reuters 2010. All rights reserved. Republication or redistribution of Reuters content, including by caching, framing or similar means, is expressly prohibited without the prior written consent of Reuters. Reuters and the Reuters sphere logo are registered trademarks and trademarks of the Reuters group of companies around the world.