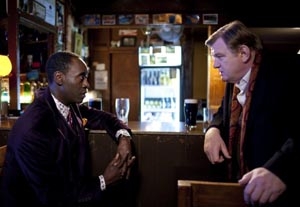 In a summer full of comic book superheroes, big bloated effects pictures, and raunchy comedies, sometimes all it takes to make movie magic is a great script and two beautifully matched actors. Such is the case with this unexpected little Irish gem, in which Brendan Gleeson and Don Cheadle do wonders with John Michael McDonagh's quirky, witty script about the odd-couple collaboration between a small-town policeman (Gleeson) and a by-the-numbers FBI agent (Cheadle) brought together on a drug-trafficking case.
Gleeson gives a colorful, bigger-than-life, completely engaging portrayal of Sgt. Gerry Boyle, the sole "policeman" in the small Irish seaside town of Galway. To say this status makes Boyle a bit unorthodox is an understatement: He likes to do things his own way, especially when it comes to using salty language and enjoying hookers and other personal pleasures. But he is called into action on his day off when drug traffickers park their boatload of cocaine in the nearby waters and cause trouble in the village. FBI agent Wendell Everett comes to town after them. Enlisting the only local law enforcement available, Everett is more than a bit perplexed by the unusual professional habits of Boyle. Together they create one of the most awkward buddy-cop pairings ever.
Although the basic plot bones of "The Guard" are similar to other movies of its ilk, nothing is predictable about this delightful action comedy, thanks to McDonagh's sharp script and casting. Gleeson in the title role is unforgettable: a pure comic creation that is also a completely three-dimensional human being. McDonagh's brilliant off-kilter dialogue suits him to a T. Playing the straight man, Cheadle underplays his frazzled FBI agent to great effect opposite Gleeson. It is the perfect pairing. As the "bad guys," Mark Strong, Liam Cunningham and David Wilmot defy stereotyping, with nicely pitched three-dimensional performances that serve as more than just plot points. Some of the Irish locals also score with small scenes here and there.
"The Guard" is an unconventional movie convention—a fun summer tonic not to be missed.
Genre: Comedy
Written and directed by: John Michael McDonagh
Starring: Brendan Gleeson, Don Cheadle, Mark Strong, Liam Cunningham, David Wilmot.