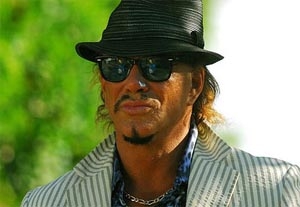 No movie in recent times has pointed up the sad state of what happens to Hollywood careers than
The Informers
, Bret Easton Ellis and Nicholas Jarecki's adaptation of Ellis' 1994 novel is set in the pre-AIDS, emotionally bankrupt L.A. of 1983. That such significant, award-winning actors as Billy Bob Thornton, Kim Basinger, Winona Ryder, the late Brad Renfro, and a pre-
Wrestler
Mickey Rourke were conducting talent clearance sales by agreeing to appear in a train wreck like this shows how far the mighty can fall in Tinseltown. Throw in a promising group of younger thesps and solid vets such as Chris Isaak and Rhys Ifans, and you have a potentially terrific ensemble stuck in a piece of indulgent, pretentious crap.
Focusing on the same kind of vapid souls Ellis raked over the coals in
Less Than Zero, The Rules of Attraction
, and
American Psycho, The Informers
is structured like Robert Altman's
Short Cuts
, zipping from one story to another in search of some cohesion. There's the tough, humorless studio exec (Thornton), his disaffected wife (Basinger), an aging newscaster (Ryder), and an ex-con (Rourke), along with a group of pretty boys and girls who seemingly spend all their days and nights in bed doing drugs when they aren't doing each other.
So let's sort out the career damage. The bad news is, other than Basinger, nobody comes out unscathed. The good news is, it's likely this thing will be gone and headed to basic cable after a week. Thornton acts with all the passion and conviction of someone who's here because his agent got him a nice paycheck. Rourke, who should be down on his knees singing the praises of
Wrestler
director Darren Aronofsky for rescuing him from more films like this, walks around uttering lines like, "The Indian is in the desert." Ryder hasn't done much of note lately, so there's little harm in a fading actor portraying a fading newscaster. Basinger is believable and even touching as an ignored Hollywood wife looking for something to give her empty existence meaning again. Sadly, Renfro succumbed to his own drug demons sometime after completing this role, giving his portrait of a voyeuristic doorman a bit of sad irony.
As the young lost souls engaged in sex, drugs, and rock 'n' roll circa '83, it's hard to tell them apart, with or without clothes on, but Jon Foster, Amber Heard, Austin Nichols, Lou Taylor Pucci, Mel Raido, and Jessica Stroup are pretty, if nothing else. Same goes for Petra Korner's lush cinematography and director Gregor Jordan's handsome production.
Genre: Drama
Written by: Bret Easton Ellis and Nicholas Jarecki
Directed by: Gregor Jordan
Starring: Billy Bob Thornton, Kim Basinger, Mickey Rourke, Winona Ryder, Brad Renfro, Jon Foster, Amber Heard, Lou Taylor Pucci, Rhys Ifans, Chris Isaak, Jessica Stroup, Austin Nichols, Mel Raido