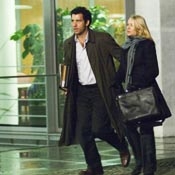 Let's face it: Audiences don't typically go to movies like The International for the acting performances. Thanks, in part, to the Bourne trilogy, the action-thriller genre has become much smarter and sophisticated than in decades past. But the film's capable ensemble is reduced to second banana to make way for the true star: a climactic, 15-minute, John Woo -- caliber shootout scene in the Guggenheim Museum. The International is a one-scene wonder, and once its 15 minutes of fame are over, the thrills cease.
Director Tom Tykwer (Run Lola Run) has joked that perhaps he should have renamed his film Guggenheim because of all the prep work involved in re-creating and then destroying Frank Lloyd Wright's masterpiece in the six-week shoot. Allegedly, after poor preview screenings, The International's original release date was moved six months forward to allow reshoots so Tykwer could transform it into more of an action movie -- never a good sign.
The film centers on Interpol agent Louis Salinger (Clive Owen) trying to bring one of the world's most powerful banks to justice. Salinger and Manhattan assistant district attorney Eleanor Whitman (Naomi Watts) discover that the International Bank of Business and Credit is guilty of money laundering, arms trading, the destabilization of governments, and murder.
Owen's physical and ideological fight in The International is not unlike his sensitive, world-weary performance in Children of Men, another one-scene wonder. After a vigilante makeover, Salinger's attempts to redefine "justice" are unsatisfying. The amazingly talented and fearless Watts is wasted. As the balancing second protagonist -- and thank God, not cliché love interest—in The International, Watts is more story enabler–Salinger's conscience than flesh-and-blood character. Without a real goal, backstory, or personality, the character could have been written out of the script and it would have made little difference.
If Watts' character made no impact, the opposite can be said of Armin Mueller-Stahl's complicated Wilhelm Wexler, a former Stazi agent from East Germany who organizes assassinations for the IBBC. Veteran actor Mueller-Stahl (Oscar-nominated for Shine) puts out the most intriguing and fascinating performance in The International. He even brings gravitas to the catch-phrase-heavy dialogue ("There will always be collateral damage when you take matters into your own hands" and "Sometimes a man heads straight into the very trouble he tried to avoid").
As the mysterious one-legged assassin and the film's red herring, Brian F. O'Byrne is unnamed, anonymous, and unremarkable (as he should be) until the badass shootout scene. The International is trying to say we're all pawns in the world of big corporations but -- rather than one man making a difference -- audiences are left feeling hopeless as greedy, terrorist-fueling banks serve as zombies in a doomed corporate apocalypse.
Genre: Thriller/Action
Written by: Eric Warren Singer
Directed by: Tom Tykwer
Starring: Clive Owen, Naomi Watts, Armin Mueller-Stahl, Brian F. O'Byrne