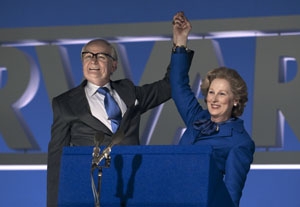 Margaret Thatcher is not the most likable figure on which to center a biopic. With her conservative policies and unrelenting governing style, she garnered a reputation during her 11 years in office as one of the most unpopular and controversial British prime ministers. But in the hands of Meryl Streep, she is so much more. Streep paints a detailed portrait of Thatcher, almost indistinguishable from actual footage of her, but she also captures the heart beneath the unwavering exterior and exposes her more sentimental moments.
The film unfolds in flashbacks, as the elderly Thatcher (Streep in impeccable makeup by J. Roy Helland) bumbles around a large empty house with her daughter, Carol (Olivia Colman), trying to let go of her late husband's things. However, jumping around in Thatcher's past detracts from the narrative of her life. Thatcher rose from being a grocer's daughter to being the first woman prime minister, an ascent that would provide a compelling story. By showing Thatcher's life out of order, Abi Morgan's script assumes a level of knowledge about her life that most U.S. audiences lack. The randomness of these flashbacks makes her climb to power difficult to follow at times.
Director Phyllida Lloyd focuses on Thatcher's conflicting domestic and professional lives and her valiant attempts to dismiss the former. "One's life must matter," a young Thatcher (Alexandra Roach) argues, as if raising a family and keeping house weren't a suitable disposition for women. However, the dismissal of family time and a personal life comes back to haunt her in a way that Streep captures admirably.
For this is Streep's movie, and regardless of qualms about the film's finer points, Streep delivers a tour de force performance. She channels some of her "Devil Wears Prada" persona in this strong female character, making government leaders feel about as small as she made Anne Hathaway feel in the aforementioned film. Images of street protests, the 1984–85 miners' strike, and the Falkland Islands bombing pepper the film, as Thatcher's stone-cold expression never wavers. Though audiences might not want to root for Thatcher, or sympathize with her, Streep is easy to get behind. Jim Broadbent is also wonderfully endearing as Denis Thatcher.
By portraying Thatcher's geriatric existence after her heyday in politics, Lloyd seems to be highlighting a sort of crisis of conscience in Thatcher over whether her life really mattered. She will always have memories of her time in office, but she also reflects on dances with her husband to Rodgers and Hammerstein music, and she clings to her most important accessory—a double strand of pearls she dubs "my little twins"—that Denis gave her on the birth of their twins, Mark and Carol. The film's haunting final image shows that no matter what a person does with one's life, whether prime minister or grocer, choosing happiness is always the best decision.
Genre: Drama
Written by Abi Morgan
Directed by Phyllida Lloyd
Starring Meryl Streep, Jim Broadbent, Olivia Colman, Roger Allam