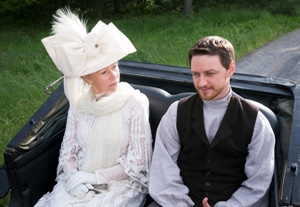 "The Last Station," recounting the final months in the life of Leo Tolstoy (Christopher Plummer) and his deteriorating relationship with his fiery wife, Countess Sofya (Helen Mirren), is one of the most entertaining movies this reviewer has seen in a long time. A particularly delightful scene features Tolstoy playfully flirting with his spouse of 48 years by clucking like a chicken, arms flapping against his sides, and bounding about the bedroom in a wild parody of a bird in heat. It is a high point in a bravura performance that embraces the contradictory elements in the great Russian novelist who, at the end of his career, renounced his title and property while ordering his serfs to serve him. Though Sofya is in a towering rage over his decision to leave his family without an inheritance, at its core this film is a sexually charged love story between two forces of nature. It is also a political movie, pitting warring ideologies against one another, and an exploration of careerism and personal manipulation.
In this film, loosely based on the historical novel by Jay Parini and adapted by writer-director Michael Hoffman, Tolstoy is almost a pawn between Sofya and his flattering and self-serving disciple Chertov (played with villainous relish by Paul Giamatti), whom Sofya holds in utter contempt. Subplots center on Tolstoy's new assistant Valentin (James McAvoy) and Valentin's love for the free-spirited Masha (Kerry Condon), and Sofya's unhappy relationship with her adult daughter (Anne-Marie Duff) who clearly favors Dad. All the supporting actors are fine, but McAvoy is especially convincing as an innocent whose views are challenged at every turn.
It's a biased film: Sofya's politics and position are clearly the most rational, while Tolstoy often emerges as a doddering old fool bordering on senility; and Chertov is the clownish heavy, twirling his mustache, beady eyes darting from side to side. The stars' acting is somewhat over-the-top, yet it's done with such unabashed abandon one can't help loving it—and it befits the characters. Consider Sofya's response when she realizes Tolstoy has dumped her. Wandering onto her estate's pier, she works herself into a frenzied fit and rolls into the lake where she has to be fished out, choking and coughing. It is a remarkable bit of larger-than-life acting that has its comic elements but is never self-mocking. It is to Hoffman's credit that he can get grand-scale performances from his actors that are believable, within parameters, and always fun.
Genre: Drama
Written and directed by: Michael Hoffman
Starring: Helen Mirren, Christopher Plummer, Paul Giamatti, Kerry Condon, Anne-Marie Duff, James McAvoy