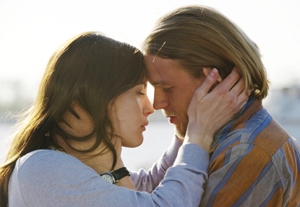 Films that grapple with philosophical issues can quickly become heavy-handed and tedious. It's to writer-director Matthew Chapman's credit that his attempt at the genre is not dull at all—at moments, it's quite a nail biter—though it's regrettably schematic. "The Ledge" deals with issues of religious belief versus nonbelief and raises the questions: Can a man who has no faith in an afterlife be as morally committed to anything as his believing counterpart? Will he be able to sacrifice himself to save someone else?
"The Ledge" is a battle of wills between two men?one an atheist (Charlie Hunnam), the other a born-again Christian (Patrick Wilson). The latter is married to a lost soul (Liv Tyler) who is torn between the two men. The film explores a complicated love triangle that becomes a thriller as the believer forces the nonbeliever onto the ledge of a skyscraper, giving him one hour to make a life-or-death decision. Throughout, a troubled policeman (Terrence Howard) with his own personal baggage tries to coax him down from the ledge. The story is told through a series of flashbacks. In the end, it's predictable and its moral viewpoint obvious.
Interestingly, Chapman is the great-great-grandson of Charles Darwin and the author of two nonfiction books dealing with the ongoing battle between rationalism and faith: "Trials of the Monkey—An Accidental Memoir" and "40 Days and 40 Nights." His previous screenwriting credits include "Consenting Adults" and "The Runaway Jury." "The Ledge" represents an amalgam of Chapman's interests.
The direction is taut and the acting superb. Tyler gives a nuanced and understated performance. Hunnam is convincing as a highly moral and ethical man caught in an irresolvable dilemma. Howard vividly evokes the torment of a father and husband whose entire understanding of his place in his family is abruptly shattered, while he's determined to carry out his duties as a cop and save a man's life. Christopher Gorham is excellent as a gay man trying to maintain equilibrium in a less-than-kind or -accepting world. But the most striking performance is Wilson's as a religious fanatic. In lesser hands, this role could easily have morphed into a nut case. The character is clearly twisted, but Wilson's performance is so thoughtful, it also sheds light on a tortured human being whose perverse actions almost seem destined.
Despite the film's limitations, there is much to recommend here.
Genre: Drama
Written and directed by: Matthew Chapman
Starring: Charlie Hunnam, Liv Tyler, Patrick Wilson, Terrence Howard, Christopher Gorham.