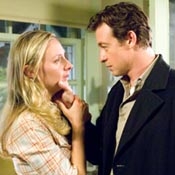 Like Brian De Palma before him, writer-director David Ondaatje is obsessed with Alfred Hitchcock. But unlike De Palma, he doesn't seem to have a clue what made Hitchcock tick. The press notes for his new movie, The Lodger, say Ondaatje has studied the director extensively and in previous short films aped the master's technique. Now he has made as his feature debut an adaptation, like Hitchcock, of Marie Belloc Lowndes' 1913 novel, which Hitchcock did as a silent film in 1927. With several other adaptations since then, no one was crying out for a contemporized version set in West Hollywood, but that's what Ondaatje gives us here. It's hard to fathom why a first-rate cast — which includes Alfred Molina, Hope Davis, Simon Baker, and Donal Logue — would have been drawn to this dreary, hopelessly predictable rehash, but maybe they just wanted the paycheck.
At any rate, the update's premise revolves around an investigation by private detective Chandler Manning (Molina) of a series of prostitute murders on the Sunset Strip. Not only is the serial killer copying the crimes of Jack the Ripper straight out of the book; he is also carrying them out using the M.O. of a murderer Manning put behind bars years earlier. The film leads us to believe a possible suspect is a mysterious lodger named Malcolm Slaight (Baker) who rents a guesthouse from an warring couple, Joe (Logue) and Ellen Bunting (Davis); Ellen seems to have quite a bit of interaction with the new tenant, triggering Joe's jealous, suspicious nature. At any rate, Manning, dealing with personal problems that include his daughter (Rachael Leigh Cook) and suicidal wife (Mel Harris), teams up with rookie partner Street Wilkenson (where do they get these names?), played by Shane West. As the murders are similar to the case that consumed Manning years ago, suddenly he is a key suspect, at least in the eyes of the police captain (Philip Baker Hall). Could Manning have planted evidence that led to the execution of an innocent man? And just what clues does the Bunting residence now hold? A more important question would be: Who cares?
The actors slumming in this low-budget enterprise should know better than to get involved in a movie that wouldn't past muster as an episode of CSI — be it New York, Miami, or even Pacoima. Molina tries his best but is defeated by the pedestrian script; West is wallpaper. Davis can't get a beat on her confused and paranoid housewife, and Logue is one-note as her hubby. Hall is earnest as the police chief, but all these characters are just rolling around in clichés. Producers are lucky to have cast Baker in the underwritten Lodger role, hitting just as his new CBS series The Mentalist proves the breakout show this season. If the actor were a real mentalist, he would have known to steer clear of this pathetic homage that would have the late great Hitchcock saying, "Thanks, but no thanks."
Genre: Mystery/Drama
Written and directed by: David Ondaatje
Starring: Alfred Molina, Hope Davis, Shane West, Simon Baker, Rachael Leigh Cook, Donal Logue, Philip Baker Hall, Rebecca Pidgeon, Mel Harris