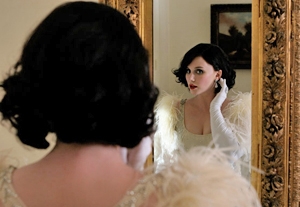 Welcome back, Tennessee Williams! We've heard of development hell, but it has taken 53 years for the Tennessee Williams original screenplay "The Loss of a Teardrop Diamond" to finally be made. Director Elia Kazan, who had done "A Streetcar Named Desire" and "Baby Doll" with Williams, was originally going to make "Teardrop," starring Julie Harris, in 1957, but Kazan went on to other projects instead, causing Williams' script to languish and eventually be forgotten until a young director and Williams scholar, Jodie Markell, became obsessed with the idea of bringing it to the screen, every word intact.
It has a classic Williams heroine in Fisher Willow, excellently played by Bryce Dallas Howard. During the Roaring '20s, when liberation is sweeping the country—except for the Deep South—Willow is a reluctant debutante, tainted by family scandal, whose rebellious ways don't play well in society. In an attempt to please her controlling and stern aunt (Ann-Margret), Willow enlists farmhand Jimmy Dobyne (Chris Evans), from the other side of the tracks, to be her escort for the all-important socialite party season. Pretending he is upper-class, she even gets her aunt to loan her the precious teardrop diamond earrings, which she then loses. As her passion grows for Jimmy, complications surrounding the relationship and the diamond cloud things as classic Williams betrayals ensue.
Immersing the story in delicious period Southern atmosphere, Markell smartly does not try to embellish, contemporize, or change the iconic writer's style. Instead, she gets to the essence of the story by enlisting a first-rate cast, the actors proving themselves entirely capable of bringing Williams' brand of Southern life to fruition.
Howard seems born to play this role. She's remarkable and nails the part in every way as she gets the rare chance to create a Tennessee Williams heroine, looking like a young Elizabeth Taylor with dyed raven-black hair and just the right amount of Southern sass, fury, and vulnerability to pull Fisher off. Howard's accent is spot-on, and she makes this belle always watchable and intriguing. In what may be his finest work to date, Evans is a strapping escort and conflicted man caught up in events beyond his control. Ellen Burstyn is splendid in her few key scenes as Miss Addie, an opium-addicted invalid who on her deathbed turns to Fisher for help. There's also fine work from Mamie Gummer as Fisher's friend and Ann-Margret as the spinster aunt, although seeing the glamorous star as a dowdy old biddy is a bit disconcerting.
Oozing Southern grit and style in the vein of "Cat on a Hot Tin Roof" and "Sweet Bird of Youth," this Tennessee dream-out-of-time marks a brilliant and welcome screen return for one of America's greatest writers, even if it had to wait until a quarter-century after his death.
Genre: Drama. Written by: Tennessee Williams.
Directed by: Jodie Markell.
Starring: Bryce Dallas Howard, Chris Evans, Ann-Margret, Ellen Burstyn, Mamie Gummer, Jessica Collins.