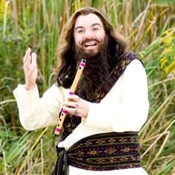 Mike Myers remains one of the few stars in movie comedy today who refuses to trade off his own persona, instead going the risk-taking route of creating characters audiences will either get or reject. He sometimes hits big, as in the Austin Powers and Shrek trilogies, sometimes fails spectacularly, as in 2003's abysmal The Cat in the Hat, his last live-action feature till now. His latest creation, The Love Guru, falls somewhere in between, a super-silly but somewhat guilty pleasure born out of a spiritual reawakening after the death of Myers' father and of a longtime friendship with Myers' karma adviser, Deepak Chopra (who cameos in the film). That it took the actor, as close to a modern-day Peter Sellers as we are likely to get, five years to bring so minor a work to the screen speaks volumes about the painstaking process of comedy he practices.
The story revolves around down-on-his-luck Guru Pitka, who yearns to come out of the shadow of his media-savvy childhood friend Deepak Chopra, who has reached what Pitka considers the holy grail: an appearance on Oprah. Out of the blue comes Pitka's chance for the kind of fame he believes he deserves, in the form of an invitation from Jane (Jessica Alba), owner of the Toronto Maple Leafs hockey team, to help rekindle the fire of her star player, Darren (Romany Malco), who has been emotionally crippled by marital problems. Seems Darren's wife, Prudence (Meagan Good), has deserted him for the legendarily endowed L.A. Kings star Jacques "Le Coq" Grande (Justin Timberlake). In order for the team to have any shot at the Stanley Cup, Pitka must bring Darren and Prudence back together.
Even though this is clearly Myers' show, there are nice over-the-top moments from the supporting group, including Verne Troyer (best known as Dr. Evil sidekick Mini Me in the Powers films) as the icky Maple Leafs coach and Timberlake, showing comic chops despite a tendency to throw too much at the wall to see what sticks. Alba is not a natural comedian (Exhibit A: Good Luck Chuck) but serves her purpose as gorgeous wallpaper. Ben Kingsley is mostly wasted as Pitka's mentor, but Stephen Colbert shoots and scores as a whacked-out announcer.
With a plot thinner than a 1970s Bob Hope comedy, Love Guru swims -- and occasionally founders -- with the lowbrow gags Myers brings to the table. He can be quite funny, whether repeating his sage advice for intimacy ("Into Me I See") or repeating his mantra ("Mariska Hargitay"). (Okay, the first 10 times were probably enough.) Unfortunately the script Myers co-wrote with Graham Gordy often comes off more like a Saturday Night Live sketch, and direction from first-time helmer Marco Schnabel is rather pedestrian. With a more experienced presence behind the camera, Myers might have been persuaded to resist the temptation of obvious shtick and add substance that could have lifted this into Powers (and sequel) territory.
Genre: Comedy
Written by: Mike Myers and Graham Gordy
Directed by: Marco Schnabel
Starring: Mike Myers, Jessica Alba, Justin Timberlake, Romany Malco, Verne Troyer