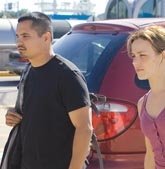 The Lucky Ones is a terrific film: fast-moving, entertaining, and funny at moments, though ultimately tragic. Set within the traditional framework of a cross-country road trip, it describes the adventures—more often misadventures—and evolving relationships of three American soldiers who have completed their tours of duty in Iraq and have returned to the States.
When T.K. Poole (Michael Peña), Colee Dunn (Rachel McAdams), and Fred Cheever (Tim Robbins) arrive in New York from Germany, they decide to share a minivan to get to their respective destinations. Cheever is headed toward St. Louis to reunite with his wife and teenage son; Dunn plans to visit a fallen fellow soldier's family in Las Vegas; Poole is on to the Pacific Northwest to see his hot-blooded fiancée. With little in common short of their recent military service, the three vets start out as strangers whose interactions are uneasy at best. But as the journey unfolds and they find that their lives at home—and their understanding of who they are in the world—have changed irrevocably, they also discover an unexpected bond with one another.
There is no shortage of snappy dialogue and narrative drive—the latter being absent in so many "serious" movies. But there are also multileveled characters here, each brought to life by fine actors at the top of their game. McAdams is especially noteworthy as the relentlessly optimistic and touchingly naive Dunn, who truly believes her late boyfriend's parents will invite her to live with them simply because she served with their son in Iraq. As reality dawns, she sheds her little-girl worldview, revealing an unanticipated but completely believable maturity and depth of understanding. Robbins' Cheever is a stoic who lives his life based on notions of morality and duty, assuming others function similarly. But when his wife informs him she prefers living alone, Robbins captures the understated anguish of a stunned man who abruptly realizes he is devoid of a future. Nonetheless, Cheever is determined to do the right thing. Peña perhaps has the most difficult role as the standard-bearer for American macho cockiness. Though Poole is a familiar type, the actor transforms him into a funny and sensitive soul who has sustained genital injuries and is terrified his hot fiancée will dump him. He, too, grows into a three-dimensional figure.
The cinematography is stunning in capturing the American landscape—geographical and cultural. There's the increasing expansiveness of the rocky terrain as the trio travels westward. And there are the colorful locals—from the super-rich lawn-partying churchgoers to the kitschiest of the kitschy. It would be easy to turn these secondary figures into caricatures. But thanks to co-writer and director Neil Burger, even these minor characters are all too poignantly human.
Genre: Drama. Written by: Neil Burger, Dirk Wittenborn. Directed by: Neil Burger. Starring: Tim Robbins, Rachel McAdams, Michael Peña.