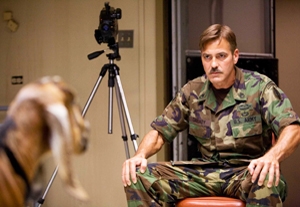 I've been waiting for George Clooney to really shine again in a comedy. ('O Brother, Where Art Thou?' was his last great one.) Fortunately, the wait is over. His starring turn in 'The Men Who Stare at Goats' is one of his best and most entertaining performances to date, regardless of genre. (Word is he's even stronger in the upcoming 'Up in the Air,' directed by 'Juno' helmer Jason Reitman.) Think Cary Grant in screwball comedy—only the leading lady is absent, prosthetic teeth and wigs are worn, and LSD is involved. 'Goats' is an absurdist buddy comedy loosely inspired by real events that confirm that truth is, by far, stranger than fiction.
Ewan McGregor co-stars as small-time news reporter Bob Wilton (based on writer Jon Robson, whose novel was adapted for this film). After his wife (Rebecca Mader) leaves him for his editor, Bob does, as he says in the movie, 'what many men before me have done when a woman breaks your heart. I went to war.' With no solid plan or connections in place, Bob aimlessly heads to the Middle East hoping to nab a big story about Iraq. As luck, or perhaps fate, would have it, Bob hitches a ride into the war-torn region with stranger Lyn Cassady (Clooney), a shadowy and rather ridiculous figure claiming to have once been part of an elite, experimental U.S. military unit known as the New Earth Army. Led by Vietnam vet–turned–hippie guru Bill Django (Jeff Bridges), the New Earth Army—or Project Jedi, as insiders call it—trained 'super soldiers' in psychic warfare.
McGregor is terrific as the straight man opposite Clooney, and their chemistry really works. The rest of the cast is equally strong. Bridges, as Django, is hilarious, as is Kevin Spacey as Lyn's snotty rival, Larry Hooper. Stephen Root, in a small but memorable role as seeming nut job Gus Lacey, is also great. Waleed Zuaiter is notable as an Iraqi kidnap victim who comes to the aid of Lyn and Bob.
Director-producer Grant Heslov, who produced, co-wrote, and had a small role in the Clooney-helmed 'Good Night, and Good Luck' and whose other producing credits include 'Leatherheads' and the Coen brothers' 'Intolerable Cruelty,' has wholeheartedly succeeded with 'Goats.' It's not a coincidence that Heslov's background is in acting ('The Birdcage,' 'True Lies'). He brings out the best in this film's cast, and the pacing of the comedy is spot-on. Peter Straughan's smart script is also top-notch. Clooney also serves as a producer on this.
Genre: Comedy
Written by: Peter Straughan
Directed by: Grant Heslov
Starring: George Clooney, Ewan McGregor, Jeff Bridges, Kevin Spacey, Robert Patrick, Stephen Root, Stephen Lang, and Rebecca Mader