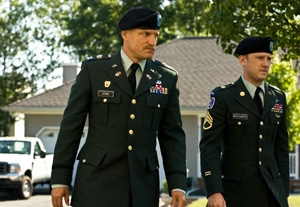 "The Messenger" is undoubtedly the perfect vehicle for actors eager to display their dramatic chops with such intense emotions as shock followed by grief, then shaded with rage, denial, and an array of other feelings that surface in the face of devastating loss. Indeed, the performances are the most striking element in Oren Moverman's first-time directorial effort.
Having returned home from a tour of duty in Iraq, Will Montgomery (Ben Foster) is assigned to the Army's casualty-notification service and partnered with Officer Tony Stone (Woody Harrelson) to inform military families that their loved ones have been killed in the line of duty. The film follows the two men as they knock on doors, deliver the worst possible tidings, and witness the responses of the wretched survivors. All the snippets of acting are impressive, but ultimately it feels repetitious and self-conscious.
Still, a relationship of sorts evolves between the two soldiers, who are initially at odds. There is also a romantic component when Montgomery finds himself drawn to Olivia (Samantha Morton), a widow he has informed of her husband's death.
Foster is splendid as an isolated figure trying to maintain his humanity in a universe that is grotesque and brutal. Morton is wholly credible as a widow and single mom, who anticipated her husband's death and is perhaps almost liberated by the loss. Indeed, she's even able to feel compassion for the two soldiers who have the onerous task of ringing her doorbell. But the picture belongs to Harrelson, whose portrait of a tightly wound, self-destructive alcoholic is stunning. When his façade disintegrates, it's one of the most intense expressions of repressed anguish and torment erupting on a screen.
But in the end no new or gripping insights have emerged; worse, there's something unpleasant about the whole film. It's not a promising combination.
Genre: Drama
Written by: Alessandro Camon and Oren Moverman
Directed by: Oren Moverman
Starring: Ben Foster, Woody Harrelson, Samantha Morton, Jena Malone, Steve Buscemi, Eamonn Walker