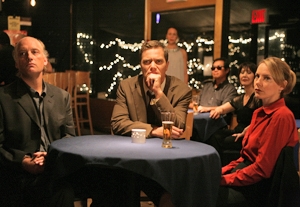 The twist in writer-director Noah Buschel's stylized and scattershot homage to film noir tries to give the film a wider resonance. But this is an odd mix in every sense. Set in modern era but washed in a 1970s palette and bearing a 1940s tone, "The Missing Person" is hampered by a slow start whose ends don't justify its means.
Private eye John Rosow (Michael Shannon), a former NYPD cop haunted by the events of Sept. 11 and escaping his demons via alcohol and Chicago, gets a mysterious commission to tail a man, Harold (Frank Wood), traveling with a child to Los Angeles. Several quirky, perplexing encounters with random nonessential or tangential characters fail to derail Rosow from successfully tailing the pair into Mexico via various tactics, some more interesting than others, such as a ride in the trunk of a cab. After a confrontation with a local don, the detective discovers Harold's secret and is ready to let the case drop, until Rosow's employer raises the stakes. In determining Harold's fate, Rosow must come to terms with his own past.
The film contains all the elements for a film noir but puts them together in a way that's thoroughly unsuspenseful, perhaps because we can't get to know or develop sympathy for the characters. Little of interest happens in the first third of the 95-minute film; dialogue throughout that section is minimal and mumbled, muddling the relatively bare-bones plot. Shannon is appropriately dry and matter-of-fact, if at times hard to decipher, though Rosow's sense of irony makes the character more enjoyable as the story progresses. Wood is compelling as the man on the run. Amy Ryan excels in her few scenes as the underdeveloped love interest; she and Shannon evoke a nice chemistry despite the tepidity of the script.
In smaller parts, Yul Vazquez goes a little over the top in a wacky scene as a gun-wielding Mexican gangster. Paul Sparks as a former colleague of Rosow's and Margaret Colin as the investigator's seducer are unremarkable. Linda Emond is fine as the money behind the investigation, while John Ventimiglia as a cabbie named Hero gets the most colorful role and makes the most of it.
Genre: Mystery. Written and directed by: Noah Buschel. Starring: Michael Shannon, Amy Ryan, Frank Wood, Linda Emond, John
Ventimiglia.