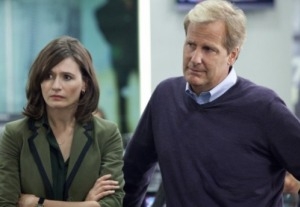 The injuries sustained by the News Night staff were so abundant this week, I sometimes felt like I was watching "Emergency Room." Between the broken bones, cuts and bruises, and head-traumas, one has to hope that ACN has a decent health insurance plan.
The Truth Hurts
Right off the bat, News Night senior producer Jim Harper (John Gallagher, Jr.) finds himself twice on the receiving end of a whack to the head courtesy of associate producer Maggie Jordan's (Alison Pill) careless heavy glass door usage. Creator Aaron Sorkin wants to convey that things are chaotic in the control room, and sometimes you get hit in the face with a heavy glass door twice. Curiously, Jim's painful-looking gash ultimately requires stitches, but due to what can only be described as a rare hematological abnormality it doesn't start bleeding until long after he gets cut. 
But these aren't the only hits Maggie wants Jim to take for her. Maggie wants to avoid having to listen to her roommate Lisa complain about being single on Valentine's Day, so she strong-arms Jim into bringing some romance to their once simple booty-call dynamic. Of course, he screws this up and everything goes terribly wrong and culminates in an embarrassing confrontation between Lisa, Jim, and Maggie on the floor of the newsroom. Poor Lisa is one of the few characters who doesn't get physically beaten up this episode, but between how utterly forgettable she is to her boyfriend and how annoying her emotions are to her roommate, it's hard not to feel for her.
Arab Sprain
Meanwhile, the Arab spring is in full effect, and News Night is covering last year's tumultuous coup in Egypt. Amidst the sometimes-violent protests, ACN's man on the ground is Elliot Hirsch (David Harbour), the anchor of another show on the network. He's confined to the interior of his Cairo hotel room until, on the urging of his antsy executive producer Don Keefer (Thomas Sadoski), he ventures out to take a closer look at the crowd. He escapes death, but gets beaten up pretty brutally with a rock and quickly returns home.
Lacking a presence in the region during such an important event, the News Night staff reaches out to a blogger that Neil finds on the internets. He's a young man named Amen, who has been reporting from Tarir Square since tensions started to rise, and he agrees to be ACN's new field reporter. Amen makes the risky decision to reveal his true identity on the air, which backfires and gets him kidnapped. Feeling a kinship to Amen, and upon seeing a video of Rush Limbaugh commenting callously on the threats that stringer reporters face, Neil punches a computer monitor and breaks his hand. Limbaugh's clip is pretty nasty, and it wouldn't surprise me if many Newsroom viewers were tempted to punch their own screens. When the network refuses to work with Egyptian security to free Amen, Don tries to break down a solid oak door with a shoulder-check and breaks his arm. Ultimately, proving that breaking the bank is more effective than breaking a limb, millionaire anchor Will McAvoy (Jeff Daniels) pays off the hostage-takers and sets Amen free.
Extortion
But Amen's kidnapping wasn't the only extortion afoot. Fictional gossip rag TMI has been ratcheting up attacks on News Night, and goes after Mac (Emily Mortimer). It turns out that her boyfriend is running for office and using her influence at News Night to get on the air a lot as a means of boosting his profile. She realizes quickly that she's being used and cuts the creep loose, but the story is already out there. To make things worse, it's becoming clear that ACN is a house divided when their own morning program picks up the story. The dingbat morning anchor glibly chatters away until Charlie intervenes by threatening to fire him via earpiece while he's on the air.
Meanwhile, Will is tempted to put a stop to TMI assault on his staff by paying off their comely reporter, but he can't bring himself to write the check when she demonstrates the audacity to call herself a journalist. 
Things are coming to a head with the powers that be at the network, which is clearly aiming to sabotage its own show. All signs point towards a big confrontation between a higher up and the News Night staff, provided everyone can stay out of traction long enough for it to happen.
Win Rosenfeld is a producer and national television correspondent. He's produced and reported for PBS, NPR, and Current TV. He's a bad actor, but his portrayal of Linus in the 3rd grade production of "You're a Good Man, Charlie Brown," was widely acclaimed by his family.